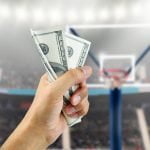 The cancellation of collegiate and professional sports in March because of the coronavirus outbreak cost Indiana's retail and online sportsbooks about $125 million in wagers.
This was the estimate provided by PlayIndiana.com in its review of state gaming data. The organization said with no immediate end in sight to the crisis, "the industry will continue to navigate treacherous waters in the months ahead."
"This is an unprecedented stoppage for legal sportsbooks, and there is no playbook for them to follow to help manage the crisis," said Dustin Gouker, lead analyst for PlayIndiana.com. "Obviously, the sports betting industry is just one facet in a crisis that is affecting us all, too often tragically but it is a business that employs hundreds in Indiana and generates millions in state taxes and the bottom line is that there will be no significant relief until the sports world begins to open back up."
PlayIndiana.com said Indiana appeared to be headed for its first month of more than $200 million in bets. Instead, the state's retail and online sportsbooks collected $74.8 million in March wagers, down 60% from the record $187.2 million in February, according to PlayIndiana.com's analysis of state data. Nearly all of the handle was generated before March 11, prior to all sporting events being cancelled because of the outbreak.
March's bets produced $5.5 million in adjusted gross revenue, down 50.5% from $11.9 million in February, and yielded $522,0825 in tax revenue for the state.
The loss of the NCAA Men's Basketball Tournament proved particularly damaging, PlayIndiana.com said. Indiana sportsbooks could have generated more than $50 million in tournament-related wagers, PlayIndiana.com estimates.
"There is no way to replace the revenue that would have been generated from the NCAA Tournament, which in legal jurisdictions generates more action than the Super Bowl," said Jessica Welman, an analyst for PlayIndiana.com. "The NCAA Tournament can't be rescheduled, but professional leagues are beginning to draw plans to begin games again."
The silence of sportsbooks could change in a minor way. Sportsbooks are now accepting bets on the WNBA and NFL drafts.
"We don't expect a lot of betting on the WNBA and NFL drafts, but we suspect that each will draw more interest than either would under ordinary circumstances," Welman said. "People are looking for some sense of normalcy while they practice social distancing, and the drafts and futures betting is providing at least some outlet for bettors."
In March, online sportsbooks generated 81.3%, or $60.8 million, of the state's handle.
DraftKings/Ameristar Casino led the market with $33.1 million in bets, down from $74.1 million in February, and generated $2.4 million in gross receipts.
Horseshoe Hammond led the retail market with $3.4 million in bets, down from $12.4 million in February. That generated $211,475 in gross receipts, PlayIndiana.com said.