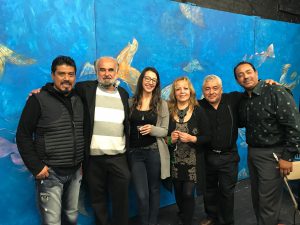 More than two decades ago Jose Castro-Urioste had a story to tell.
That story by the Purdue University Northwest professor of Spanish became the play Ceviche in Pittsburgh. It details a man's journey to Pittsburgh to reconnect with his estranged brother who has not returned to his native Peru for many years; the brothers' differing life paths and resulting struggles rekindle memories and resentments they must deal with as they work to reconcile their relationship.
On the 25th anniversary of the play's premier, the Peruvian Consulate General in Chicago sponsored a reception prior to the play's performance at the Cervantes Center in Chicago. The reception was in recognition of Castro-Urioste's play and other professional achievements.
Castro-Urioste has received international interest and acclaim for his literary contributions throughout his career. He previously won the PNW Outstanding Faculty Scholarship Award and placed first in the International Latino Book Award competition.