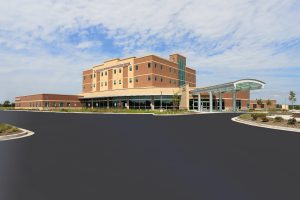 Community Hospital has scheduled an open house Sept. 21 for its new stroke and rehabilitation center at 10215 Broadway in Crown Point.
The event from 10 a.m. to 1 p.m. will feature a variety of events including an autograph session with the Chicago Blackhawks' Patrick Sharp.
The stroke & rehabilitation center is the newest addition to Community Healthcare System. It is a specialty hospital with a focus on inpatient rehabilitation and features a 40-bed inpatient rehabilitation unit on the third and fourth floors with dedicated activity and gym space for therapy.
The unit also houses an area that mimics an apartment for patients to practice the activities of daily living in a supervised setting.
"Studies show that for patients who are recovering from stroke, neurological conditions or joint replacement, intensive inpatient rehabilitation treatment can result in better outcomes with a shorter length of stay," said Craig Bolda, administrator, Community Stroke & Rehabilitation Center. "The new (facility) is packed with advanced technology, new comforts for patients and families and new efficiencies that will enable us to provide enhanced quality care and best outcomes."
In addition to the inpatient rehabilitation unit, the facility also offers an immediate care center, outpatient physical, occupational and speech therapy, diagnostic imaging services, a clinical laboratory and physician offices.
The facility's second floor is home to physician offices along with a women's diagnostic center, which is dedicated to breast imaging, offering same-day mammography results and additional related testing under the guidance of fellowship-trained and dedicated breast radiologists.
Community Healthcare System includes Community Hospital, Munster; St. Catherine Hospital, East Chicago; St. Mary Medical Center, Hobart and Hartsfield Village continuing care retirement community, Munster.