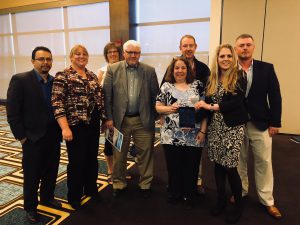 MICHIGAN CITY – CLH, CPAs and Consultants was recognized for reaching its 25th business anniversary in 2017 during the Economic Develop Corp. Michigan City's biennial awards banquet.
EDCMC recognized local companies, which have made substantial investments in their business during 2016 and 2017 and also honored businesses celebrating anniversary milestones. CLH was one of six businesses recognized at the event.
"We have enjoyed continuing to celebrate our 25th anniversary this year," said Robert Lange, III, CPA and one of the founding partners at CLH. "It was an honor to be recognized by the Economic Development Corp. alongside so many other businesses in Michigan City that have invested in and contributed to the local economy. We thank EDCMC for their continued support and look forward to working with them in the future."
Tony Gillisse, CPA and partner at CLH, said "the Economic Development Corp. has a significant role in job creation and business retention in Michigan City. It's a privilege for our firm to have played a part in sustaining the city's economy over the years with them."
Between 2015 and 2017, Economic Development Corp. Michigan City reports it was involved in more than 25 projects, resulting in an economic impact of more than $54 Million in Michigan City, creating more than 350 new jobs and retaining more than 750 jobs.