Cleveland-Cliffs Inc. is increasing prices for its steel production by at least $50 a ton — again.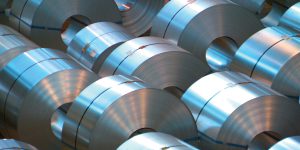 The Ohio-based steel manufacturer said in a press release that its new base price for hot-rolled steel is $850 a ton. Nationally, hot-rolled steel prices as of Feb. 1 were $770 a ton, which was an increase of about $60 a ton from the month before, according to Ryerson, a steel manufacturing and distribution company with headquarters in Chicago.
Cleveland-Cliffs increased the price by $50 a ton in January and in December.
"Cliffs has seen increases in both pricing and volume for its automotive steel business, reducing material available to be sold on a spot basis," said a Jan. 17 press release from the company.
The American Iron and Steel Institute reports that raw steel production in the U.S. was more than 1.6 million tons for the week ending Feb. 4, up 1.3% from the week before. That figure shows a decrease of 6.7% from last year.
Cleveland-Cliffs has steel-making locations in Burns Harbor, Gary, East Chicago and New Carlisle. It will announce its fourth-quarter and 2022 earnings results in an investor meeting Feb. 14.