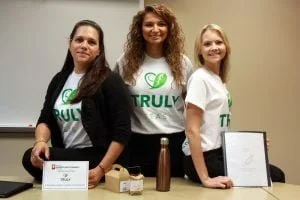 GARY – A college education has returned immediate dividends for three graduates of Indiana University Northwest.
Truly Teas, an online beverage business, was launched by IU Northwest alums Demi Kolintzas, 26, of Schererville; Lindsey Liesenfelt, 26, of Cedar Lake; and Branka Vukotic, 33, of Highland. The trio banded together in a marketing strategies class for a project in the fall of 2017.
No one expected an assignment would become a real business, even Yllka Azemi, the class instructor who made the class assignment into a competition, which would be judged by IU Northwest School of Business and Economics faculty. In the end, it was the idea presented by Truly Teas' founders that won.
A short time after after the semester ended, Azemi was visited by the entrepreneurs, who wanted to make their hypothetical business a reality.
Liesenfelt said she and her business partners believed they could bring their idea to life during the class competition.
"All of our professors were watching and they asked us if we were really going to do this, because they thought it was a good idea," she said.
Truly Teas seeks to provide customers with, "the best-tasting, all natural, USDA Organic and Fair Trade Certified teas for their everyday lives." Owners say they want to be as eco-friendly as possible and use 100 percent recyclable packaging.
The company sells assorted flavors as well as tea infusers and stainless-steel bottles.
Azemi said she was excited by the students' enthusiasm.
"We began meeting several times a month if not every other week," she said. "Everyone from the School of Business and Economics came together and helped them with all the pieces that needed to come together. Whether their need was technology, accounting, or communications, the faculty all contributed their individual expertise to help Truly Teas get off the ground."
Vukotic, a mother of three, said while the class competition launched the concept, it was the education and assistance the entrepreneurs received from IU Northwest that brought the idea to life.
Kolintzas said the lessons learned through Azemi's course helped her and her partners understand what it would take to start a company and encouraged them to explore their creativity.
"Through trial and error, we put our ideas together and figured it out for ourselves," she said.
Helen Harmon, assistant director of graduate and undergraduate programs at IU Northwest, praised the women on their achievement.
"This venture speaks to a generation which is definitely more comfortable with e-shopping and online commerce," Harmon said. "This is exactly where business is going."