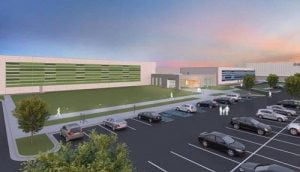 Members of the leadership team for the new $17 million Hammond Sportsplex and Community Center have been named.
Hammond native James Taillon was named the center's general manager and Kymberli Roberts of Hammond was named assistant general manager basketball/volleyball.
"We are very fortunate to have these two talented and experienced individuals to lead the sportsplex into becoming the premiere athletic facility in Northwest Indiana," Mayor Thomas M. McDermott said in a statement.
Taillon is a graduate of Morton High School and Vincennes University where he played baseball for two years. He had served as vice president of marketing for Arkansas Sports Entertainment with the Arkansas Riverblades Hockey team and Arkansas Twisters Arena II Football Team.
Taillon also worked for Red Bull North America as the marketing manager for the state of Arkansas where he sponsored, marketed and created events throughout the state. He managed multiple staffs in both positions.
Taillon most recently served as co-owner, president/CEO of Tailco Beverages.  
Roberts is a graduate of Morton High School and earned a bachelor's degree in criminal justice at Indiana University Northwest in 2013 and later earned master of science in sports administration from Valparaiso University.  
Roberts presently works as a correctional officer with the Hammond Police Department. Since 2012, Roberts has coached various high school volleyball and basketball teams and is currently the varsity volleyball coach and assistant varsity coach for girls' basketball at Griffith High School.  
The new 135,000-square foot sportsplex will feature six basketball courts, 12 volleyball courts, two regulation-sized indoor soccer fields, six indoor batting cages and an upper level track. The facility also will offer a community room to host city events, a concession area, general offices, and restrooms/changing rooms.
The complex is under construction at the site of the former Woodmar Mall, 6630 Indianapolis Blvd., and is expected to be completed by September.