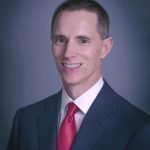 Donald Fesko's efforts to build a diversified health care network and volunteer time with assorted organizations to make the Region a better place to live and work landed him the 2019 Distinguished Citizen Award.
Fesko, president and CEO of the Community Foundation of Northwest Indiana Inc., was presented the award by the Pathway to Adventure Council – Boy Scouts of America. CFNI is the parent company of Community Healthcare System, which operates Community Hospital, Munster; St. Catherine Hospital, East Chicago; St. Mary Medical Center, Hobart; specialty hospital Community Stroke & Rehabilitation Center, Crown Point; and Hartsfield Village, a continuing care retirement community in Munster.
Each year, the Boy Scouts of America's Pathway to Adventure Council presents the Distinguished Citizen Award to an individual whose efforts have had a positive impact on their communities in Northwest Indiana and across the state. Recipients are selected for their outstanding service as evidenced by their leadership to many community organizations.
Fesko's leadership and guidance has led the hospitals of Community Healthcare System and its affiliates to be recognized by numerous local, state and national organizations for outstanding care.
Fesko also serves on the board of directors for Peoples Bank, the Advisory Council of Indiana University School of Medicine, the board of directors for Hospice of the Calumet Area and is president of the Community Cancer Research Foundation Inc.
In 2013, Fesko was appointed chairman of the Northwest Indiana Regional Development Authority by then Gov. Mike Pence. Fesko also received the Executive Regent's Award for the State of Indiana, which he received in 2014 from ACHE.
Boy Scouts of America's Pathway to Adventure Council represents suburban Chicago and Northwest Indiana. It operates four service centers and serves more than 21,000 youth members and includes more than 8,000 adult volunteers.