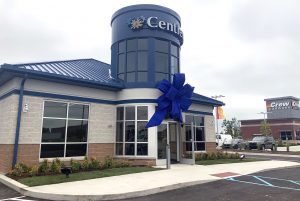 Centier Bank will open its newest branch in St. John July 12.
The location at 9621 Wicker Ave. broke ground in the fall. Among the branch's features includes, a three-lane drive-thru; free self-service coin counting machine and EZ deposit ATM.
"I welcome our St. John area clients to experience the amenities and convenience of the new branch, as well as the welcoming environment and contemporary layout of the space," said Mike Schrage, CEO and board chairman of Centier. "We've been in St. John for over 20 years and are delighted to continue to provide personalized banking services and more convenience for our clients."
Jennifer Doffin, regional sales manager at Centier, said the St. John staff is ready for the branch's opening and ready to assist customers.
"We've been awaiting the opening of our new St. John branch for quite some time," Doffin said. The new branch features Centier's signature rotunda, which is visible from Wicker Avenue.
"The building itself is really stunning, and we are overjoyed that the day has finally come where we can open our doors," she said.
The branch is open Monday through Friday 9 a.m. to 5 p.m. On Saturdays, drive-thru service is available 8 a.m. to noon and the lobby is open 9 a.m. to noon.
Centier operates more than 60 locations across Indiana and has more than $5.3 billion in assets.
Editor's note: This story has been updated with additional information.