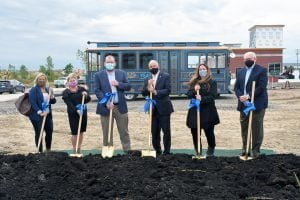 Merrillville-based Centier Bank is building a new branch location in St. John.
Bank representatives recently were joined by community officials for a ceremonial groundbreaking for the bank's new location at 9621 Wicker Ave., which is expected to open in late spring 2021.
Michael Schrage, CEO and chairman of Centier, along with Jennifer Doffin, regional sales manager at Centier; Bruce Boyer of Boyer Construction; Craig Phillips, St. John Town manager; Beth Hernandez, clerk rreasurer; and Sam Alberico, president of the St. John-Dyer Chamber of Commerce, were among the attendees at the Sept. 30 event.
"I'm proud and excited to bring a brand new, state-of-the-art banking center to St. John," Schrage said. "Coincidentally (Sept. 30) is the 21st anniversary of the day we opened our first branch in St. John—Sept. 30, 1999."
He said Centier Bank will be rounding out its 125th anniversary year with the opening of the new branch in St. John.
The new branch, located on the east side of Wicker Avenue at West 96th Place in St. John, will include a three-lane drive-up, free self-service coin machine, and EZ Deposit ATM.
Centier Bank operates 64 locations across Indiana and has more than $4.5 billion in assets.