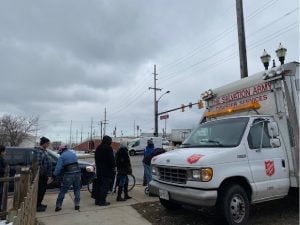 The fluid situation surrounding the COVID-19 crisis has businesses providing help to those aiding those in need and rethinking how to deliver products and services to customers.
NiSource donates $1 million
Merrillville-based NiSource, parent company of NIPSCO, donated $1 million to support American Red Cross coronavirus relief efforts in Indiana, Kentucky, Maryland, Massachusetts, Ohio, Pennsylvania and Virginia.
"This $1 million donation is aligned with our foundational commitment of safety," said Joe Hamrock, NiSource president and CEO. "We are committed to the safety of our nearly 4 million customers, which we aim to enhance by providing this support to the communities we serve – especially at a time of heightened need such as this. We know the Red Cross can efficiently get these dollars into the hands of those who are providing essential care to our communities."
About $400,000 of the company's pledged support is expected to go to Red Cross efforts in Indiana, the company said.
Businesses donate medical supplies
Horseshoe Hammond Casino donated 1,400 N95 medical masks to offset shortages experienced by Region healthcare organizations.
Representatives for the Horseshoe Casino said 600 masks were distributed to the first responders in the city of Hammond and 600 to Franciscan Healthcare in Hammond. The Hospice of the Calumet Area received 200 masks.
"During this time of uncertainty, Horseshoe Hammond wants to remain a champion to its community partners in any way possible," said Jimmy Meyer, security director at Horseshoe Hammond. "We understand there is a nationwide shortage for available supplies and we didn't have to think twice about supporting those efforts."
The Horseshoe, which has been closed since March 16, recently donated 30,000 pounds of perishable foods to Region organizations providing aid to those in need.
Franciscan Health said many businesses have donated various types of protective equipment to its hospitals
Franciscan Health said Region firms including Sullair, provided 1,280 N95 medical masks to Franciscan Health Michigan City. Additional donations of personal protective equipment to the hospital have come from Napa Auto Parts, the A.K. Smith Career Center, Blue Chip Casino, the Michiana Humane Society and the LaPorte County Health Department.
Additionally, Franciscan Health Munster received sterile gowns, masks and shields from Dr. Jeffrey Meister of Munster Distinctive Dentistry.
IUN offers free Internet access
With all college campuses closed during the crisis, IU Northwest in Gary has provided free access to its wireless Internet service via its "Hot Spot Lot," located in the main parking area closest to the Moraine Student Center. Users can sit in their vehicles and simply connect to IUN's wireless internet access.
"Sharing our resources with others in need is a priority for us all during this difficult time and IU Northwest is no exception," said IUN Chancellor William J. Lowe. "We're asking our students to complete their semester in a non-traditional way, which is challenging enough. Now, with the state's additional mandate for residents to stay at home, we realize this poses even greater obstacles, with competition for technology from other family members, and a lack of access in general for many residents. We hope this public service will help our entire community."
Businesses turning to curbside, remote access
Assorted service businesses have turned to curbside or online access to remain open and keep workers employed.
Financial institutions either are offering scheduled appointments with customers or encouraging online or phone transactions. Many, including First Merchants Bank, also are offering customers loan modifications or payment deferrals.
Batteries Plus locations are providing curbside services to customers. The retailer sells batteries, light bulbs and chargers for a variety of products.
Midwest Express Clinics, which has locations in Munster, Dyer, Hammond, Schererville and Crown Point, are open during the crisis. Its hours are 8 a.m. to 8 p.m. daily.
Numerous initiatives are underway to help slow the spread of the virus. Assistance also is available to businesses experiencing financial hardship during the crisis.
Many service organizations also have launched websites and increased assistance to aid those in need during pandemic.