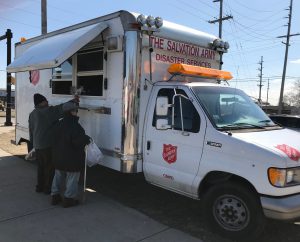 Adapting to a world dealing with the COVID-19 pandemic where public interaction has been limited to slow the spread of the virus has the business community finding the best ways to help and cope with the situation.
Numerous businesses have come forward in recent days providing free food to health service workers and first responders and donating dollars as well as assorted medical supplies and equipment to organizations providing care to those in need.
Thor Industries donates equipment, supplies
RV-industry giant Thor Industries of Elkhart through its various subsidiaries has made assorted donations to organizations providing care.
"As the world faces the massive challenge of the pandemic, we view it as our obligation to stand in support of the fight against its spread and to be part of the solution," said Bob Martin, THOR president and CEO. "On a daily basis, our management team meets to assess the situation and to identify and take necessary actions to help our communities where our team members and their families live."
Martin said whether the company donates face masks and other protective gear or travel trailers to be used by those affected, Thor Industries, "will continue to heed the call to action."
A partial listing of the efforts by THOR companies includes:
Airstream Inc.: Two two NEST travel trailers for the Wilson Health medical team to use to conduct coronavirus testing at the Shelby County Fairgrounds in Shelby, Ohio.
Heartland Recreational Vehicles: Donated face masks and chemical protective suits to Beacon Health System in Elkhart.
Jayco Inc.: Donated safety glasses, face masks and vinyl gloves to local healthcare facilities and area first responders in South Bend and Goshen. It also donated two Seismic 4125 toy haulers to serve as additional space for pediatric immunizations and one unit to the Middlebury Fire Department to use as a quarantine space should one of the firefighters become infected.
Keystone RV Co.: Donated supplies including masks and protective suits for the Wakarusa Ambulance Department, healthcare professionals in a network of nursing homes in Northern Indiana and sets of eye protection for Goshen Hospital.
K-Z Recreational Vehicles: Raised funds to provide medical supplies to area hospitals. The company also is partnering with Goshen General Hospital and other area businesses to produce reusable protective masks.
Thor Motor Coach: Donated chemical protective suits and face masks to healthcare workers in Elkhart and Goshen. The company has also donated fabric for its furloughed employees to make face masks.
Indiana Manufacturers Association launches resource website
The Indiana Manufacturers Association launched a website, which provides various resources to assist businesses and provide information on the outbreak.
"These are extraordinarily challenging times for our world, our nation, our state, and our economy," said Brian Burton, president and CEO of the Indiana Manufacturers Association. "Indiana is at the forefront of the challenges facing manufacturing given the fact that it is the most manufacturing intensive state in America. Indiana manufacturers account for nearly one-third of Indiana's economic activity."
Amish Acres postpones re-opening
Amish Acres in Nappanee near Elkhart said the crisis has postponed its re-opening indefinitely.
"After much thought and consideration, and due to the recent actions taken concerning the spread of COVID-19 and the government's recommendations regarding social distancing, the new owners are announcing the delay of opening The Barns at Nappanee, Home of Amish Acres this upcoming Easter weekend until further notice." said Marlin Stutzman, managing partner of the new ownership group. "While we are very excited to welcome the general public to the new shows at The Round Barn Theatre and dining in the restaurants with our new partners at LaSalle Hospitality, we believe it is best to postpone the opening of The Barns at Nappanee until we know our guests and new employees will be safe, comfortable, and conditions regarding the COVID – 19 are more understood."
Amish Acres was sold at auction on Feb. 5 for a cumulative total of $4.425,200.
Numerous initiatives are underway to help slow the spread of the virus. Assistance also is available to businesses experiencing financial hardship during the crisis.
Many service organizations also have launched websites and increased assistance to aid those in need during pandemic.