Bruce White's legacy will continue long after his death Jan. 19. His many contributions to the Region will include a $50 million donation that will help fund the Bruce White Undergraduate Institute in the new Mitchell E. Daniels Jr. School of Business.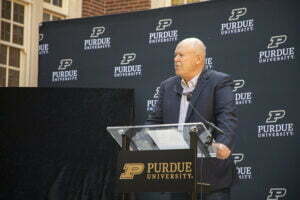 The Dean and Barbara White Family Foundation contribution is the largest in the business school's history, according to a university press release.
"The White Family Foundation has long been a truly dedicated partner in helping Purdue achieve excellence at scale," said university President Mung Chiang. "The naming after Bruce White, one of the most prominent Boilermakers our university has ever known, is particularly meaningful to us."
White, 70, was a 1975 graduate of Purdue, a former board member from 2011-2015 and a longtime benefactor of the university.
"In all its history, Indiana has produced few citizens the equal of Bruce White," said Mitch Daniels, Purdue University president emeritus and former governor of the state of Indiana, in a press release. "In a spectacular business career, his imagination and boldness created opportunities and wealth for thousands of others. He invested enormously of his energy and personal resources in trying to build the prosperity and quality of life of his beloved Northwest Indiana."
Other Purdue projects his family's foundation supported are:
$20.8 million in 2022 for the Dean V. White Real Estate Finance Program in the School of Management
$5 million in 2021 to the School of Hospitality and Tourism Management, which was renamed the White Lodging-J.W. Marriott Jr. School of Hospitality and Tourism Management in West Lafayette
$30 million in 2018 to help renovate the Union Club Hotel in West Lafayette
$5 million in 2009 for the White Lodging School of Hospitality and Tourism Management at Purdue Northwest
These contributions are among $100 million in contributions over the last five years. The foundation also invested in YMCA facilities in Crown Point and Hammond, and several community centers in Northwest Indiana, including the Dean and Barbara White Merrillville Community Center, which opened in 2021.
White founded Merrillville-based White Lodging in 1985 and built the company from one hotel to a hospitality giant today. The privately held company manages a portfolio of properties that include 60 hotels, 50 restaurants, 10 rooftop bars and luxury ranches in markets from Austin to Denver to Nashville, and of course, Indiana.
"Bruce was a visionary, a leader and a hospitality icon like no other," said Jean-Luc Barone, White Lodging chief executive officer. "I have learned more from Bruce about hard work, leadership and family than any other person in my life. And while he maintained a low public profile and was humble in his impact on the industry, there's no question that Bruce White helped transform the modern hospitality industry by having a long-term vision, challenging existing norms, and executing at the highest levels — all from a small town in Northwest Indiana."
White also was a graduate of the Harvard Graduate School of Business O.P.M. Program and received an honorary doctorate of business administration in hospitality management from Johnson & Wales University in Rhode Island. He is a member of Purdue University's Business Hall of Fame.
A memorial service took place Feb. 10 at Old St. Patrick's Catholic Church in Chicago. He is survived by his wife, Beth, of 35 years and his three adult children, Corinne, Conner and Patrick, and his first grandchild, Timothy, in 2021. White, who died of cancer, was born in Gary and grew up in Crown Point. He was the son of Dean and Barbara White.
White also helped create an endowment fund for future students of the hospitality program at Purdue. His words, "be a learner, be a leader, be a friend," will continue to challenge future generations.
Learn more about White in his obituary. Also learn about his commitment to the Big Shoulders Fund here.