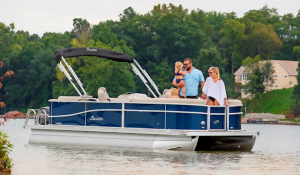 Bristol-based Barletta Boat Co. projects its $7 million expansion project may create up to 250 new jobs in the next few years.
The Indiana Economic Development Corp. said the Elkhart County-based maker of pontoon boats, will construct and equip a new facility on its 37-acre campus next to the company's 110,000-square-foot production facility at 51687 County Road 133. The new 144,600-square-foot building gives the company additional production space to meet growing demand in North America.
Barletta plans to break ground in July and expects the new site to be operational by January. The expansion also includes new office space and additional storage.
"Elkhart County is the RV and pontoon boating capital of the world," said Bill Fenech, president and co-founder of Barletta Boat Co. "Obviously, it made sense to continue growing our business in the heart of the recreational industry."
Barletta employs about 200 in Bristol and expects to begin hiring in the coming months.
In 2017, Fenech, who also co-founded Keystone RV in 1996 and Grand Design RV in 2012, combined his passion for boating and experience in the RV industry and launched Barletta. The company serves more than 140 dealers around the U.S. and Canada.
The Indiana Economic Development Corp. offered Barletta Boat Co. up to $2 million in conditional tax credits and $50,000 in conditional training grants based on the company's job creation plans.
The IEDC also offered up to $200,000 in conditional tax credits from the Hoosier Business Investment tax credit program based on the company's planned capital investment in Indiana. The tax credits are performance-based, meaning the company is eligible to claim incentives once Hoosiers are hired.