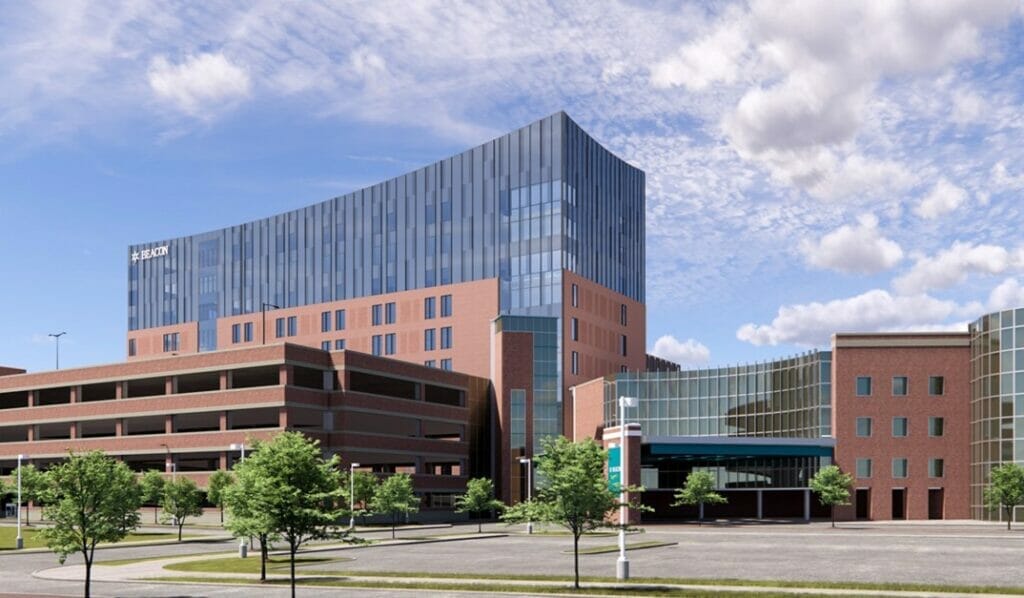 An extensive expansion and renovation of Beacon Health System's Memorial Hospital in South Bend will transform the facility when work is completed by late 2025, officials say.
Health system representatives and community leaders broke ground Oct. 18 on a new 10-story patient care tower on hospital campus. Health system representatives say the, "transformational, once-in-a-generation project is designed to enrich the patient, family and visitor experience while meeting the growing healthcare needs of residents in our area for decades to come."
The project, which has an estimated cost of $232 million, totals 300,000 square feet. It will increase the number of adult hospital beds from 249 to 302 as well as expand the hospital's intensive care unit, remodel existing hospital rooms and upgrade technology.
Hospital officials say the expanded facility will create 500 new jobs.
"We are raising the bar for inpatient care in our region and investing in our community with this historic initiative," said Larry Tracy, president of Memorial Hospital. "But this is more than brick and mortar; we are planning for the future of healthcare with this commitment to our patients and our clinical teams."
Construction crews have been working on major projects for nearly a year inside the hospital to create space for the new tower. Hospital officials hope the new facility will be operational by early 2026.
Beacon Health System initiated a master facility plan process in June 2019 to evaluate its inpatient bed tower. Physicians, clinicians and hospital staff helped define many of the details.
The result was a project to redefine and, in some cases, expand the space and facilities Memorial Hospital has available for adult acute care and adult critical care.
The new tower project was designed by CannonDesign and will be built by Walsh Construction.