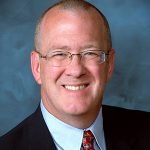 The nation's economy has seen strong job gains in January and February, according to government data, but future job creation numbers could look very different down the road because of the global fallout from COVID-19 more commonly known as the coronavirus.
Ball State University economist Michael Hicks said in March 6 statement that for the second month, the U.S. economy created a large number of new jobs, but the impact of the virus may shut down factories and impact the American workforce in the months to come. The Bureau of Labor Statistics in January said 225,000 jobs were created and in February nonfarm payroll employment grew by 273,000.
"The February jobs report was a good piece of news, reflecting not only job gains of 273,000 in February, but large upward revisions for January and December." said Hicks, director of Ball State's Center for Business and Economic Research. "Of the 273,000 jobs, a full 45,000 were in government, reflecting large gains in education, and early hiring for the March Census count. Construction was a very good February, with 42,000 jobs and Manufacturing grew by 15,000."
Hicks believes the latest job gains "are sure to be eclipsed by response to the spread of the coronavirus."
"The supply shocks from quarantined factories in Asia are weeks away from idling U.S., Canadian and European factories, and the demand-side impact on tourism, travel, eating and drinking establishments is already being felt across the world," he said. "The March jobs report, will be far less optimistic."
Gov. Eric Holcomb on March 6 signed an executive order declaring a public health emergency to increase coordination across all levels of government in the state's response to the virus. This was a necessary step to make Indiana eligible for federal dollars to respond to the outbreak.
The Indiana State Department of Health confirmed March 6 the first case of the coronavirus in a Marion County resident with a recent history of travel to a Boston event tied to several cases in other states.
Worldometers, a data website, on March 6 reported there were more than 100,000 cases worldwide and 3,461 deaths. There were 259 cases in the U.S. and 14 deaths.