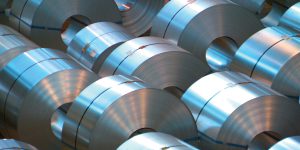 Steel maker ArcelorMittal has landed industry honors from General Motors.
GM recognized ArcelorMittal with its 2019 Supplier Quality Excellence Award, presented to the automaker's top suppliers.
These ArcelorMittal facilities received the award including ArcelorMittal USA Indiana Harbor and I/N Tek and Kote facilities, AM/NS Calvert and ArcelorMittal Dofasco. This was the third year in a row AM/NS Calvert was recognized and second consecutive award for Indiana Harbor, and I/N Tek and I/N Kote.
"We are very proud of our partnership with General Motors across our sites, and this recognition is a testament to our employees' dedication to superior quality and service," said John Cardwell, ArcelorMittal's director of automotive sales. "Winning this award in multiple locations not only bodes well for us now, but also helps position us to remain the market leader with General Motors."
General Motors utilizes thousands of suppliers around the world, but only a small fraction of those receive its Supplier Quality Excellence Award. To receive the award, steel facilities must meet certain metrics including low rejection rates; maintenance of quality certifications, and no plant disruptions or major shipping issues.
"General Motors' mission is to design, build and sell the world's best vehicles with the highest levels of quality and safety on the road," said Richard Demuynck, executive director of GM's global supplier quality and development, wrote in announcing this year's awards. "Achieving this mission depends largely on the quality of the parts our suppliers produce day in and day out."