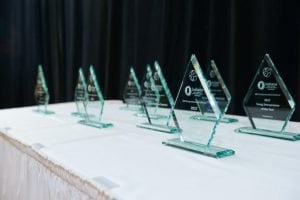 Successful small businesses and individuals working to make Northwest Indiana a good place to live and work, will be honored during the annual Entrepreneurial Excellence (E-Day) Awards.
Honorees will be recognized at the 28th E-Day luncheon from 11:30 a.m. to 1 p.m., Nov. 14 at Avalon Manor, 3550 E. Lincoln Hwy in Hobart. The awards are presented by the Northwest Indiana Small Business Development Center.
The 2019 honorees include:
Small Business Person of the Year: Patti Komara, Patti's All-American, Dyer
Entrepreneurial Success: Dawn McIver, MicroWorks Inc., Crown Point
Emerging Business of the Year: Nan Wellman, Outstanding Tradeshow Exhibit Services, North Judson
Young Entrepreneur of the Year: Justin Kiel, Kiel Media, LaCrosse
Family-Owned Business of the Year: Fingerhut family, Fingerhut Bakery, North Judson, Knox, Bass Lake locations
Women-Owned Business of the Year: Tammy Wendland, Valpo Ventures dba Plato's Closet, Valparaiso
Minority-Owned Business of the Year: Moe Musleh, Anytime Fitness, various locations
Small Business Advocate of the Year: Clarence Hulse, Economic Development Corporation Michigan City, Michigan City
Lifetime Achievement Award: Dean Sangalis, Dean Sangalis & Associates, Northwestern Mutual Insurance agency, Merrillville
Additional information is available on the Northwest ISBDC website or by calling (219) 644-3513 or email northwest@isbdc.org.