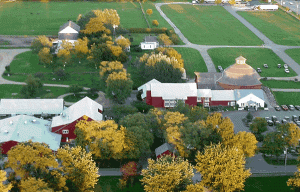 The dining and entertainment venue Amish Acres in Nappanee near Elkhart is under new ownership.
The property and buildings, which had been owned by the Peltcher family for 50 years, was sold at auction Feb. 5 for a cumulative total of $4,425,200, according to the Schrader Real Estate and Auction Co. Inc. website.
The auction featured 16 tracts, which included one segment that contained the Round Barn Theater, a 400-seat restaurant, a pair of historic log cabins and other buildings. A representative for the auction company would not disclose the buyer of this tract but news media reports of the auction indicated John Kruse of Auburn, Jason Bontrager of Elkhart and former congressman Marlin Stutzman of Middlebury paid $1.55 million for the tract.
Diana Lawson, CEO of the Elkhart County Convention & Visitors Bureau, in a Feb. 6 statement congratulated the site's new owners.
"The Elkhart County Convention & Visitors Bureau congratulates the new owners of the Amish Acres property in Nappanee," Lawson said. "We're excited for the future and believe in the opportunities for creating memorable experiences and welcoming new and returning visitors to Nappanee."
Lawson said the Pletcher family built a strong foundation for this property by honoring Elkhart County's heritage and leveraging the community's skills as makers and promoting the greater Elkhart area.
"We are grateful to the Pletchers for all they contributed to the ever-popular Amish country experience, and we look forward to working with the new owners," she said.
Amish Acres announced in November that it was closing after its New Year's Eve Fireworks Finale Dec. 31. The Pletcher family said they were retiring.