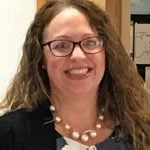 Alisa Hecimovich has been appointed chair of the advisory board of The Salvation Army of Lake County.
Hecimovich, vice president of American Precision Services Inc. in Gary, also serves as chair of the Salvation Army's programs committee and previously was a member of the fundraising committee. She takes over for R. Louis Gonzales, chancellor of Ivy Tech Community College's Lake County campuses, who resigned from the post citing increased work commitments but will remain on the board.
Hecimovich will lead the advisory board, which provides guidance in measuring the effectiveness of The Salvation Army of Lake County's programs and services, as well as budgeting and financial stewardship, community relations, property management, fundraising, and strategic planning. Hecimovich also will represent The Salvation Army in the community.
"I am incredibly honored and excited to be selected to serve as chair of the board for The Salvation Army of Lake County, Indiana," Hecimovich said. "Leading with a servant's heart and paying it forward are family values that were instilled in me from a young age, and I plan on working very hard to ensure The Salvation Army is successful and remains a vital part of our community in this new decade and beyond."
Captain Brian Clark, coordinator of The Salvation Army of Lake County, said Hecimovich has a heart for others and a passion for the mission of The Salvation Army.
"Her enthusiasm and support will take us to new levels in 2020," Clark said. "I also want to publicly thank Louis Gonzales our former board chairman for his wonderful contribution and leadership."