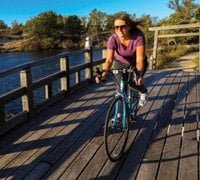 A $17.8 million federal grant will help complete the final 17 segments of a 60-mile continuous trail that connects Illinois, Indiana and Michigan.
The US Department of Transportation awarded the Marquette Greenway project a 2021 RAISE grant, which will be managed by the Northwestern Indiana Regional Planning Commission.
"NIRPC is absolutely thrilled at the news of receiving the RAISE grant," said Mitch Barloga, active transportation manager at NIRPC. "This represents, by far, the largest single active transportation investment in the history of Northwest Indiana."
The Indiana Dunes National Park and nine municipalities have pledged matching funds toward the Marquette Greenway project. NIRPC is the designated administrator and will manage funding and overall project management, and will work with municipal entities on design, engineering, and construction for these segments.
The funding allows for completion of the project, with a five-year estimated timeline. An additional $5.2 million is needed to complete the funding and will be supplemented from existing funding sources, NIRPC said.
The Marquette Greenway will be an uninterrupted span through the Northwest Indiana South Shore region, running between Calumet Park in Chicago and New Buffalo, Michigan. It will connect 130,000 residents within a half-mile of the corridor and regional and national trail systems, and traverses a diverse geographic, ecological, and socio-economical region.
The project began in 2003 as a collaborate effort within the regional Marquette Plan, first spearheaded by Rep. Pete Visclosky (D-IN) to redevelop the Indiana Lake Michigan shoreline as industrial use recedes.
The US Department of Transportation RAISE Grants make $8.8 billion available in 12 rounds of competition for infrastructure projects that have a significant local or regional impact.