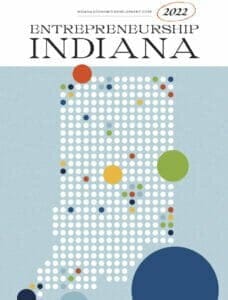 Fifteen Northwest Indiana companies are included in a new publication that highlights the efforts of the state's entrepreneurs.
The yearbook, which will come out annually, was announced Monday when Gov. Eric Holcomb pronounced Nov. 14-20 Global Entrepreneurship Week in Indiana.
The publication highlights 100 companies total. Here are the Northwest Indiana companies that received recognition in the order that they appear:
Crossroads Solar, South Bend
Paradise Spreads, Schererville
Patchables, Hobart
Plantennas, Chesterton
The Roaming Wedge, Griffith
ROCKaBLOCK, Merrillville
Abrams Studios, North Judson
Importin' Joes Ethiopian Coffee, South Bend
SIMBA Chain, South Bend
Alliance RV, Elkhart
Ameri-Can Engineering, Argos
BNutty, Portage
StoryBolt, Hammond
TayCo Brace, South Bend
Tolbert & Tolbert, Gary
Indiana Secretary of Commerce Brad Chambers and the Indiana Economic Development Corp. also announced a new website that will support entrepreneurs with a list of resources, programs and services for those who want to start or grow a business.
"Entrepreneurship has been and continues to be an essential driver of Indiana's economic future," Chambers said in a press release. "Our innovation ecosystem has unlimited potential and deserves continued cultivation and resource allocation."
The IEDC will host three events this week to celebrate entrepreneurship, including one in Elkhart from 4:45 to 6:30 p.m. Nov. 16 at the Lerner Theater, 410 S. Main St.
Cecilia Wessinger, director for global community at the Global Entrepreneurship Network, also will visit Indiana to celebrate the state's status as an emerging global entrepreneurial ecosystem.
"One week a year, for the past 15 years, the world comes together in commemoration of entrepreneurship," Wessinger said in a press release. "We celebrate ingenuity, resilience and passion, the life blood of courage, sustainability and prosperity. … At the crossroads of America, Indiana has a rich history in all these aspects."
For the first time, the Indiana Venture Report said that the state surpassed the $1 billion mark in venture capital investment.
South Bend, including Elkhart, is of particular note, landing at No. 20 on the 2022 Best Startup Cities in the Midwest list by Midwest Startups.
Indiana companies less than five years old contributed about $11.5 billion to the state's gross domestic product in 2021, according to a press release. These same types of companies created 36,000 jobs in 2019.
"This week, we honor and thank our entrepreneurs — the risk takers, dreamers and innovators who are fundamental to our state's economy," Chambers said.