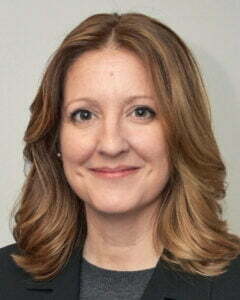 Marie Foster-Bruns is leaving One Region to become the vice president of advancement at Valparaiso University.
Foster-Bruns, who is president and CEO of One Region in Northwest Indiana, will start the post March 20. She will lead a team that manages fundraising, career services and alumni relations for the university.
She also will serve as a member of President José D. Padilla's cabinet.
"When we began the search for this critical position, I knew we needed someone with senior-level management experience in higher education advancement, as well as solid knowledge and familiarity with Northwest Indiana," Padilla said in a press release. "Marie brings the energy and passion to lead the advancement team and engage our alumni, donors and friends towards achievement of the ambitious goals in our strategic plan, Uplift Valpo."
Foster-Bruns looks forward to working with faculty and staff on the campaign.
"The new Uplift Valpo strategic plan speaks to me as a community leader, educator, and higher education executive," she said. "At its core, it celebrates our diverse region, opens the door for deeper collaborations and embraces innovation."
Foster-Bruns replaces Lisa Hollander, who is retiring. Hollander served in the position since 2010 and helped raise more than $302 million in the Forever Valpo: The Campaign for Our Future initiative. She will help Foster-Bruns transition into the position until the end of June.
Foster-Bruns said her time at One Region, which promotes growth in Northwest Indiana, was invaluable. She started there May 10, 2021.
"(I) have appreciated working alongside a dedicated board of directors, influential members and many community partners to build a stronger Northwest Indiana," Foster-Bruns said.
Foster-Bruns also was the chief experience officer and vice president of the Purdue Alumni Association from 2016 to 2020, among other positions. She earned a Master of Business Administration and a bachelor's degree in secondary education both from Purdue University.
She also volunteers with the Big Shoulders Fund and the Professional Young Women of Northwest Indiana. Her volunteer work includes teaching English and Spanish to children in Haiti and Mexico.