A mixed-use residential and commercial building in downtown Valparaiso has a unique feature that cannot be seen from the ground.
Vale View at 260 S. Franklin St., a development by Wayne Enterprises in Valparaiso, features what the company describes as the "state's first commercial bifacial solar panel installation." Adding solar panels to the building is another step in the company's long-term plan to reduce its carbon footprint and offer a clean energy solution to the community.
The system is expected to generate approximately 50,000 kilowatt-hours of energy annually, which should reduce the building's energy costs. Wayne Enterprises said bifacial solar modules can generate power from the backside as well as the front, increasing energy production and improving power output by up to 15% over single-sided solar panels.
"We had decided to put solar on the Vale View development from nearly the beginning, and we were convinced that it was the right economic decision for the project," said Matthew Welter, CEO of Wayne Enterprises. "Solar aligns with our goal of improving the value we provide for our residents and being a more sustainable organization."
Wayne Enterprises contracted Emergent Solar Energy of the Purdue Research Park in West Lafayette to design and build the solar project. Chester Inc. of Valparaiso was the architect and contracting firm, which designed and built the Vale View property.
Jeremy Lipinski, managing partner of Emergent Solar Energy, said when he first saw the roof plan for Vale View, he saw an opportunity to use the bifacial solar panels.
"The use of these bifacial solar panels will significantly increase the array's power production, and this will have positive affect on the project's economics," he said. "With solar, Wayne Enterprises is able to reduce the amount of energy it needs to buy from the utility and minimizes its exposure to increasing energy costs while it continues to expand its operations in Valparaiso."
Rich Shields, director of marketing and business development for Chester Inc., said his firm found it rewarding to be involved in a development utilizing the solar technology incorporated into the Vale View project.
"I believe this speaks volumes to the detailed craftmanship that went into all facets of Vale View to lend to its prominence as the city's first bifacial solar renewable energy facility," Shields said.
Throughout the project lifecycle, the bifacial solar energy system is expected to generate enough clean energy to offset nearly 2,000 tons of carbon dioxide—the equivalent of offsetting emissions from 3 million miles driven or the amount sequestered by more than 1,400 acres of U.S. forests, Wayne Enterprises said.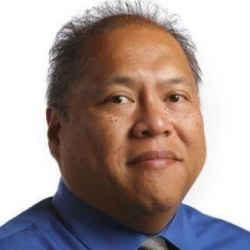 Latest posts by Larry Avila
(see all)