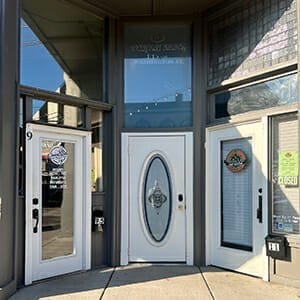 The Idea Farm started the year off with new headquarters in Valparaiso.
A ribbon cutting Jan. 10 celebrated the move from Danville, Kentucky.
"We love the community in Valpo," said Ryley Brown, head of sales for the advertising, marketing and public relations firm. "It just kind of made sense for us."
He also mentioned that he and company CEO Jose Escalera are both from Valparaiso.
He said the fact that Valparaiso is a growing city with access to the company's Chicago-area clients helped too. Valparaiso's population has been steadily growing the last decade, topping 34,000 in the last census.
"We believe the business owners in this area are underserved when it comes to marketing and branding," Brown said.
He said the company expects their website and social media services to be particularly successful in the Region.
"We work hand in hand with businesses to tell their stories through memorable websites and social media content," he said.


Escalera and his team are targeting ambitious business leaders and leaders who "are ready to level up."
"We particularly love working with impact-driven businesses that are committed to making a positive change in their communities and around the world," Brown said.
The Idea Farm recently merged with South Dakota-based VM Digital. Brown said the decision to move the Idea Farm's headquarters came shortly after.
The about 3,000 square feet at 9.5 Washington St. will serve as the new headquarters, but some of that space also will be offered as co-working spaces for a monthly fee. Conference tables and private offices also can be rented.
"We just wanted to create a space where like-minded people could get together and be with other like-minded people," Brown said.
Brown said five people work in the office, with COO Emma Jackson on the move, traveling to see clients and manage projects.
Escalera, who became CEO in August, describes himself as a "serial entrepreneur," who wants to help businesses grow, according to the company's website. He also owns Classic Cuts Barbershop, 9 Washington St., in Valparaiso, which is below the Idea Farm.
Rex Richards, president and CEO of the Greater Valparaiso Chamber of Commerce and the Valparaiso Economic Development Corp, said the town's vibrant downtown attracts businesses like the Idea Farm because of the many opportunities to dine and shop.
"(The Idea Farm) really adds to what we already have," he said. "With all the restaurants, Washington Street is right at the heart of our downtown."
He said technology companies employ a lot of young people who enjoy walking around Valparaiso's downtown.
Expectations are high that Escalera will be able to grow the business.
"With over 10 years of experience building businesses, (Escalera)'s perfectly positioned to take the Idea Farm to new heights this year," Brown said.
He also has been tasked with "recruiting a new generation of creatives and storytellers."
Some of the Idea Farm's recent clients are Science Communication lab, the Candleberry Candle Co., Iams and Ace Hardware, among others. The company started in 1975 and has 15 employees who work in the U.S. and around the world.