A program dedicated to encouraging state residents to buy food grown and produced in Indiana is under new leadership.
Indiana Grown promoted Heather Tallman to program director.
Tallman previously served as member development program manager. She has been with the state's agriculture department since 2017 and has more than a decade of food media and local agriculture marketing experience.
"Heather has been a tremendous asset to the Indiana Grown program, which has over 1,500 members statewide – a number that continues to grow every day," said Bruce Kettler, Indiana State Department of Agriculture director. "I have no doubt that Indiana Grown will reach new heights under her leadership."
Prior to joining the state, Tallman created and founded her own food media company, Kitchen Sink Media Inc., which helped brands and businesses with content creation, social media, product placement and promotion.
Tallman will oversee staff and the overall direction of the initiative. She will also serve as liaison and spokesperson for the program, and will work with the agriculture industry, and other partners, to develop new opportunities for Indiana Grown and its members.
"It's been exciting to watch the growth of Indiana Grown, since its launch in 2015, expand into a member in every county of the state," Tallman said. "I'm looking forward to growing our future with the team."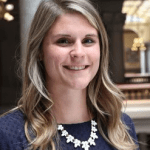 The state also announced Dana Kosco, who has been with Indiana Grown since 2017, recently transitioned into a new role as marketing and communications manager. Along with managing the communications efforts for the program, she will run the Indiana Grown Marketplace at the Indiana State Fair as well as coordinate with the media, and implementing a digital and graphic content strategy.
Kosco previously was the Girls Nation program manager for the American Legion Auxiliary and the office manager for former Lt. Gov. Sue Ellspermann. She is a graduate of Purdue University with a degree in business management.
The program also works to find additional markets for Indiana farmers.