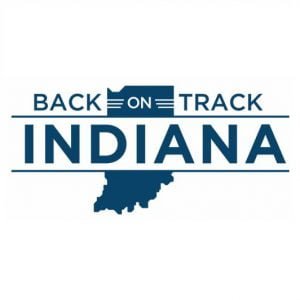 State leaders are urging Hoosiers to be proactive and use safe practices in announcing a plan to modify the Back On Track Indiana plan ahead of the July 4 holiday weekend.
The state said while a few restrictions will lift on July 4 in version 4.5 of the plan, most will stay in place. Elkhart County will remain fully in stage 4 until at least July 17.
Local governments may impose more restrictive guidelines, the state said.
"While most of our health indicators remain positive, our data indicates a need to be extra cautious, which is why we will pause much of our Back on Track roadmap," Gov. Eric Holcomb said. "I urge Hoosiers to maintain vigilance in social distancing and wearing masks so we can continue to reopen our state for business."
State leaders have used data to drive decisions since Indiana's first case of the novel coronavirus was confirmed in early March. The plan has served as a guide for the state to follow as it gradually reopened after stay-in-place orders were issued in early spring to slow the spread of the coronavirus.
The state said the following restrictions will continue through July 17:
Social gatherings following the CDC's social distancing guidelines will be limited to up to 250 people. This limit applies to wedding receptions, parties, and other events where people are in close physical contact for extended periods of time, particularly indoors.
Dining room food service may continue operations at up to 75% capacity as long as social distancing is observed. Bar seating in restaurants may continue operations at 50% capacity. Bars and nightclubs may continue operations open at 50% capacity as long as they adhere to social distancing guidelines.
Cultural, entertainment and tourism sites may continue operations open at 50% capacity.
Movie theaters, bowling alleys and similar facilities may continue operations open at 50% capacity.
Amusement parks, water parks and similar facilities may continue operations open at 50% capacity. Reservations are encouraged to limit the number of customers at any one time.
Raceways may continue operations open at 50% grandstand capacity.
The state said beginning July 4, fairs, festivals and other similar outdoor events may open. Pari-mutuel horse racing and county and state fair racing may begin with 50% spectator capacity.
Youth overnight camps may open.
K-12 school operations may begin the 2020-21 academic year on July 1. Extra-curricular, co-curricular activities may resume July 6.
Outdoor visitation is required at assisted living facilities and nursing homes beginning July 4 and indoor visitation may begin. Hospital visitations with precautions are encouraged.

Latest posts by Larry Avila
(see all)