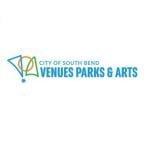 Venues Parks & Arts of South Bend will receive a $30,000 play space grant from the National Recreation and Park Association (NRPA) and The Walt Disney Co.
This investment supports NRPA and Disney's combined goal of providing 1 million kids and families with greater access to play. Venues Parks & Arts will use the grant to support playground improvements at the South Bend's new Howard Park.
The playground will be a 13,000 square foot state-of-the-art, contoured space that will be ADA accessible and include innovative play areas for all ages of children.
"Over half of the Howard Park project is being made possible through grants and partnerships, and we are enthusiastic to add another grant to this list." said Aaron Perri, Venues Parks & Arts executive director.
As part of the national Meet Me at the Park Play Spaces grant program, park and recreation agencies across the country were invited to share their best ideas on increasing access to play spaces for children and families in their communities. Agencies with the most innovative and impactful project ideas were chosen to receive grants.
The Howard Park project is part of My South Bend Parks & Trails (MSBPT), a combination of park, trail and riverfront upgrades. Venues Parks & Arts is a department in the city of South Bend.

Larry is an award-winning journalist with more than 25 years of experience working with daily newspapers and business-to-business publications around the Midwest. Avila is a Michigan native and a graduate of Central Michigan University.

Latest posts by Larry Avila (see all)