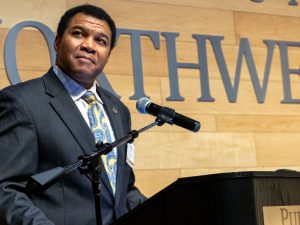 Nominations are being sought by the Society of Innovators at Purdue University Northwest for the 2021 Innovators Awards.
In addition to inducting individual and team honorees into the society, three additional awards also will be considered: Richard C. Sussman Prize for Team Innovation, Society of Innovators Fellows, and the John H. Davies Lifetime Achievement Award.
"The last 18 months have been a time of mass disruption," said Sheila Matias, executive director of the Society. "One silver lining during this period has been the realization that innovation can occur anywhere and across all sectors."
Matias said there have been many examples of creative problem-solving in every facet of life, which illustrates that disruption can create the opportunity to rethink and recreate.
"The best leaders see opportunity and take action to help their organizations succeed," she said. "Despite the ongoing challenges around us, there is no better time to embrace innovation and recognize those visionary individuals and teams that have guided Northwest Indiana through this historic period of uncertainty."
Now in its 17th year, the Society of Innovators celebrates the spirit of creativity and ingenuity by discovering, honoring and celebrating innovators from across the seven-county region of Northwest Indiana. Dedicated to the idea that anyone can be an innovator, the society recognizes innovation is key to 21st century competitiveness.
Individuals and teams can be nominated via an online application. Inductees are selected through a rigorous process by a selection committee chosen by society board members and based upon criteria established by the board.
"Northwest Indiana was built on the legacy of daring entrepreneurs over the decades," said Don Babcock, director of economic development and community relations at Purdue Northwest and board vice-chair of the Society of Innovators. "Identifying and celebrating today's entrepreneurs and creative leaders is one way the society plays a pivotal role in our Region."  
Applications for the 2021 Innovators Awards will be accepted through Friday, Sept. 10, and are open to all innovators, regardless of discipline, industry or background. More information can be found online at pnw.edu/innovators-awards or by contacting Jason Williams at jawilliams@pnw.edu.
Award categories include:
Individual honorees: The society recognizes exemplary individuals who have made it through the selection process as inductees into the Society of Innovators. Anyone who lives or works in Northwest Indiana is eligible.
Team honorees: The society recognizes exemplary teams and individual team members who have made it through the selection process as inductees into the Society of Innovators. Teams from an individual company, government unit, not-for-profit agency or a group of organizations from a specific project are eligible.
Society of Innovators fellows: The Society of Innovators may select up to five innovators each year as fellows from among previously inducted individual and team lead honorees. Fellows must live or work in Northwest Indiana and demonstrate significant achievement in innovation and contribution to our community.
Richard C. Sussman prize for team innovation: One team may be selected annually from among team inductees to receive the Richard C. Sussman Prize for team innovation. The Sussman Prize is dedicated to promoting 21st century innovation in the private, public, not-for-profit and government sectors. The award was created to honor the late Richard C. Sussman, former chairman for the Society of Innovators and head of research and development at ArcelorMittal.  
John H. Davies Lifetime Achievement Award: A lifetime achievement award winner may be selected upon recommendation of the selection committee and at the discretion of the board of directors. Not only must the honoree demonstrate significant innovation, but the work must have been sustained over a significant amount of time, and their success was not limited to just one role, company or sector. This award is the society's highest honor for an individual leader whose work took place in or significantly impacted the Northwest Indiana Region. The award was renamed to honor John H. Davies, who was recognized as the society's inaugural lifetime achievement award recipient in 2019. As the founder and retired managing director of the Society of Innovators, he successfully led the organization from its inception in 2005 until 2018.