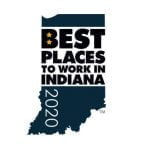 Several businesses from Northwest Indiana and North Central Indiana again were named to Best Places to Work in the state for 2020.
According to the Indiana Chamber of Commerce, which presents the awards, 125 Hoosier companies are featured on the list, including 38 first-time honorees or businesses returning to the list after at least a year's absence. Many of this year's honorees from the Region also made the 2019 list.
Honorees from the Region and North Central Indiana include:
Small Companies (15-74 U.S. employees; * Hall of Fame company)
Community Outreach Advocates Inc., Hammond
General Insurance Services, Valparaiso
HRP Construction Inc., South Bend
Lakeside Wealth Management, Chesterton
Peepers by PeeperSpecs, Michigan City
Starin Marketing Inc., Chesterton
Medium Companies (75-249 U.S. employees; * Hall of Fame company)
Large Companies (250-999 U.S. employees; * Hall of Fame company)
* Centier Bank, Merrillville
Horton Group, locations in Schererville and South Bend
Major Companies (1,000+ U.S. employees; * Hall of Fame company)
* Edward Jones, statewide
* Horseshoe Casino, Hammond
Winning companies represent nearly 30 communities across the state. The company rankings will be released April 30 during the awards dinner at the Indiana Convention Center in downtown Indianapolis.
"We've been hosting the Best Places to Work program for 15 years and continue to be impressed with the quality of employers, their strong workplace cultures and best practices they have in place that both strengthen the company and the employer-employee relationship," said Kevin Brinegar, president and CEO of the Indiana Chamber of Commerce.
Top companies in the state were determined through employer reports and comprehensive, confidential employee surveys. The Best Companies Group, which handled the selection process, oversees similar programs in 25 other states.
Out-of-state parent companies were eligible to participate if at least 15 full-time employees are in Indiana. The complete list is available on the Indiana Chamber of Commerce website.
The 2020 Best Places to Work in Indiana companies range in Hoosier employee count from 15 to more than 2,100, the chamber said.
Hall of Fame companies are those that have been named a Best Place to Work in at least nine out of 15 years.
For more information on the Best Places to Work program visit www.bestplacestoworkIN.com.

Latest posts by Larry Avila
(see all)