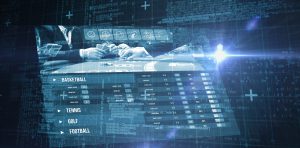 The reopening of the NBA season and start of Major League Baseball jumpstarted Indiana sports betting in July.
PlayIndiana.com reported Indiana's retail and online sportsbooks posted its best month since March. With eight days of major sports, bettors wagered $70.9 million in July, up 137.9% from the $29.8 million sportsbooks accepted in June and sending the state's lifetime handle past $1 billion.
"Indiana's sportsbook operators have proven resilient in the face of a pandemic that completely upended the sports betting model, along with so much else," said Dustin Gouker, lead analyst at PlayIndiana.com. "The industry is closing on a return to a more normal market that has the potential of a huge surge with a full month of baseball, basketball, and hockey and the potential return of football nearing."
July's handle was Indiana's best since it posted $74.8 million in March. July's bets produced $6.7 million in adjusted gross revenue, up 127.9% from $2.9 million in May, and yielded $632,554 in tax revenue for the state.
Despite the jump, bets were still off by $90 million from the expectations of an ordinary July, according to PlayIndiana estimates. Since March, Indiana's sportsbooks have lost out on nearly $700 million in wagers.
Indiana's sportsbooks have also tallied $84.9 million in revenue and $8.1 million in tax revenue since launch, putting more milestones in reach by the industry's first birthday.
After generating 98% of June's bets, the online market accounted for 91.1%, or $64.5 million, of July's handle.
DraftKings/Ameristar Casino topped the online market again with $32.9 million in bets, up from $18.2 million in June, PlayIndiana.com reported. That produced $2.2 million in gross receipts, up from $1.6 million while FanDuel/Blue Chip Casino followed with $24.2 million in bets.
Retail sportsbooks are off to an expectedly slow start after reopening in June, producing a $6.3 million handle in July. Hollywood Lawrenceburg's $2.7 million handle, up from $323,968 in July, easily led the retail market.
"DraftKings and FanDuel have very noticeably ramped up their battle for online dominance with each pouring millions into advertising campaigns, as sports betting continues to move more online," Gouker said. "Hollywood Lawrenceburg's handle is impressive, but as long as the pandemic rages on, in-person betting will be diminished. But operators with robust online products should continue to thrive."