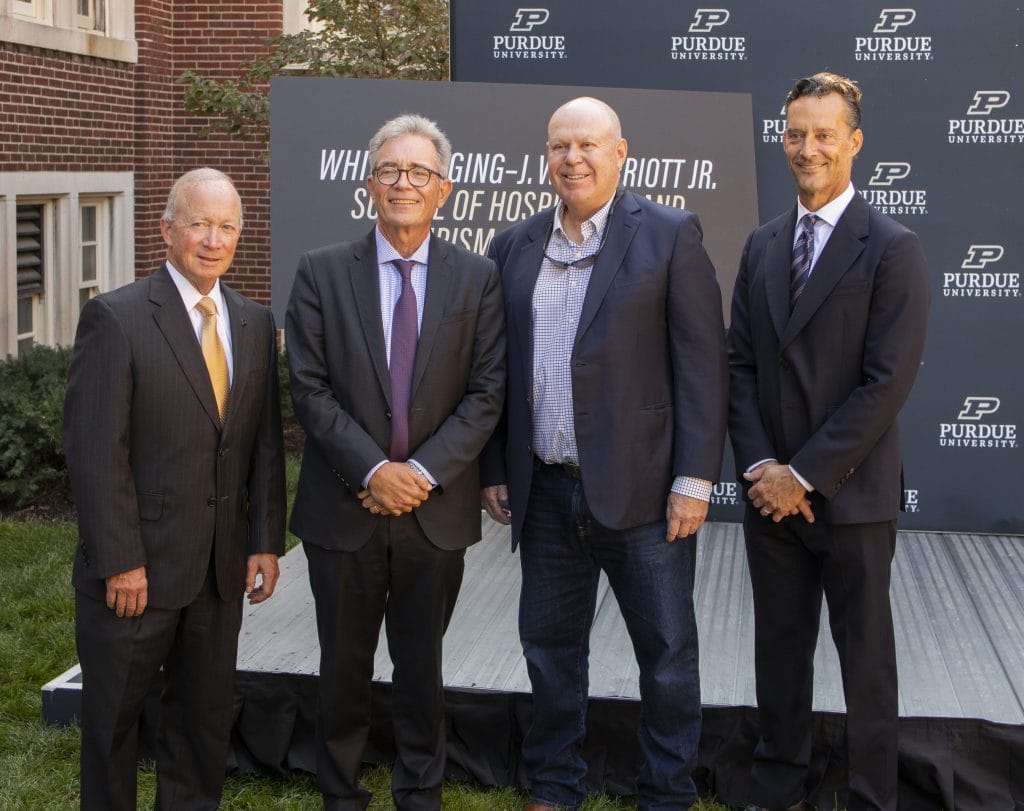 The Purdue University School of Hospitality and Tourism Management now is known as the White Lodging – J.W. Marriott, Jr. School of Hospitality and Tourism Management.
The college's board of trustees approved the name change Oct. 1. Bruce White, founder of Merrillville-based White Lodging, is a long-time supporter of Purdue requested the hospitality and tourism management school also honor the career and contributions of J.W. "Bill" Marriott Jr., executive chairman and chairman of the board of Marriott International.
Bruce and Beth White's and the Dean and Barbara White Family Foundation's $5 million pledge provides the foundation for an honors program in hospitality, an endowed scholarship for top hospitality students and a named headship in the school. This follows Bruce and Beth White's and the Dean and Barbara White Family Foundation's pledge of $30 million in 2018 to Purdue for the transformation of the historic Union Club Hotel.
"Our goal is to create an environment that allows associates to be their best selves and grow through training, development and mentorship," Bruce White said. "This goal stands as a foundation that Bill and the Marriott team built for the hospitality industry and continue to support at all levels."
Marriott said he was humbled by the recognition.
"We have had a wonderful relationship with White Lodging and Bruce and Beth White for decades," he said. "The relationship with Purdue is also a longstanding one, and I am grateful to be part of this initiative preparing future hospitality leaders."
The Marriott family has a longstanding relationship with Purdue, including The J. Willard and Alice S. Marriott Foundation providing the lead donation of $5 million in 2012 to create Marriott Hall on Purdue's campus. The Marriott family also supports the annual Marriott Executive in the Classroom series, which brings hospitality industry leaders to West Lafayette to engage with students about the industry's career pathways and visit with faculty to provide business insights to advance the students' learning experience.
In 2020, the nearly 92-year-old, 182-room Union Club Hotel reopened on campus after a comprehensive $35 million, yearlong transformation. The project involved a complete overhaul of all guest rooms and public spaces, as well as the creation of three dining concepts honoring Purdue's legacy.
Original Purdue architecture and academic-inspired design are preserved in carpet patterns, upholstery, room fixtures and countless other elements in the hotel.
The hotel is also used as a hands-on learning laboratory for Purdue hospitality students where they spend time working and learning about hotel and restaurant operations while earning college credits. Additionally, the Union Club Hotel is host to the White Lodging LAUNCH Hospitality Immersion Program designed to propel high-caliber university students into the industry by providing paid, hands-on experience.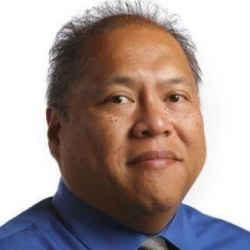 Latest posts by Larry Avila
(see all)