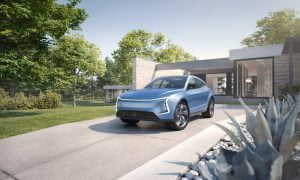 A plan by a subsidiary of a Chinese automaker to produce an all-electric SUV and bring up to 467 jobs to Mishawaka by 2020 has stalled.
Several news media outlets in recent days reported Seres Automotive, which originally launched as SF Motors, had laid off 90 people at its California headquarters and put on hold development and production of the SF5 all-electric sport utility vehicle. The SF5 was to be produced at the former AM General production plant in Mishawaka, where Seres planned to invest $160 million.
Seres, according to The South Bend Tribune, on Friday also laid off about 30 of its 81 workers in Mishawaka. The Indiana Department of Workforce Development on July 15 said it had not received any notification of layoffs from Seres but noted it wasn't necessary for the company to send a Worker Adjustment and Retraining Notification Act or WARN notice to the state because the layoffs did not impact at least 50 workers.
Seres/SF Motors representatives could not be reached for comment.
The state was disappointed in Seres' setback regarding its plans in Indiana but is hopeful the company will regroup.
"While it is unfortunate that Seres Automotive (SF Motors) has slowed down the timeline for production of its new electric vehicle model, the SF5, we understand that a company's growth plans and expected timelines may be impacted for a variety of reasons," Erin Sweitzer, a spokesperson for the Indiana Economic Development Corp. wrote in an email to Northwest Indiana Business Magazine July 15. "Despite the news, we believe the company remains committed to Indiana and to forging a robust future here."
Sweitzer said the state, "will remain engaged with Seres leadership as they work through next steps."
She said the state also will provide any resources and support to those affected by Seres' altered plans.
Media reports say the company, which is a subsidiary of Chinese automaker Sokon, was changing its focus because of the soft Chinese auto market and tariffs on Chinese-made products.
The project announced in May 2018 said the company planned to hire back as many displaced AM General workers as possible. AM General, a heavy vehicle and contract automotive manufacturer, is best known for producing the rugged Hummer sport utility vehicle as well as the Humvee.
Some work had been done to renovate and equip the former 675,500-square foot AM General facility at 12900 McKinley Highway, which has a Mishawaka mailing address but is located in an unincorporated area of St. Joseph County.
The Indiana Economic Development Corp. originally pledged $3.847 million in conditional tax credits and up to $500,000 in training grants based on the company's job creation plans. The IEDC also offered up to $653,000 in conditional tax credits from the Industrial Recovery Tax Credit program, which encourages companies to invest in former industrial facilities requiring significant rehabilitation or remodeling.