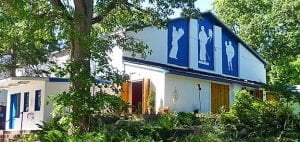 Stay-at-home orders fueled by the coronavirus pandemic kept usually active public sites unoccupied for weeks and potentially open to vandalism.
This was the case for the Dunes Summer Theatre in Michigan City, which on May 18 announced the suspension of its 2020 season. While the state revealed a plan May 1 to slowly ease restrictions on public interaction and for businesses to reopen, Dunes theater representatives instead cancelled its upcoming season due to the circumstances created by the crisis and because its facilities were recently vandalized.
Damage was extensive, theatre representatives said. Facility walls were spray painted with graffiti and vulgar messages and numerous doors and windows were damaged.
"We are committed to removing the ugliness and restoring the theatre," theatre representatives said.
This is the first year there will be no theater performances at the site since the Dunes Arts Foundation began operating it in 1952.
Anyone who has purchased tickets will be refunded, theater representatives said.
Dunes Summer Theatre seeks donations, which will go toward restoration and repairs of the facilities. Additional details about how to help are available on the organization's website.