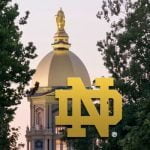 Uncertainty surrounding the global impact of the COVID-19 pandemic is the main factor the University of Notre Dame has decided to suspend its undergraduate and graduate study abroad programs for its fall semester.
The university said after consulting with faculty, domestic and international medical professionals, peers and other experts, it appeared to be the best decision.
"One of the hallmarks of a Notre Dame education is studying abroad at one of our many international sites," said Michael Pippenger, the university's vice president associate provost for internationalization. "Just as it was a difficult but necessary decision to suspend our programs midway through this past spring semester, it's equally so now for the entire fall semester."
He said study abroad programs would be reevaluated and may resume in the spring. Notre Dame offers study abroad opportunities in 29 countries.
Several factors were considered in the university's decision:
Lack of guaranteed testing of students when they are abroad
The travel bans and advisories issued by the Department of State, Centers for Disease Control and Prevention and World Health Organization
Country-specific isolation and quarantine requirements
Insight from higher education counterparts who have or are considering a suspension of their programs

Latest posts by Larry Avila
(see all)