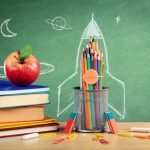 Some Northwest Indiana organizations are getting help to aid efforts to ensure children get their education off to a good start.
Early Learning Indiana recently announced the recipients who will share a $100,000 prize focused on identifying innovative ideas to ensure Hoosier children move effectively into kindergarten. The Strong Start for Kindergarten Prize competition is a new initiative funded by Indiana's Preschool Development Grant.
The nine recipients will receive prizes ranging between $5,000 and $25,000. The recipients include:
School City of Hobart's Building Brickies, Hobart
United Way of Allen County, Fort Wayne
Portage Township YMCA, Portage
United Way of Porter County, Valparaiso
Pace Community Action Agency, Vincennes
Lewis Cass Schools, Walton
Perry Township School District Preschool, Indianapolis
Johnson County Learning Center, Greenwood
Indiana University Campus Children's Center, Bloomington
A smooth transition into kindergarten creates a foundation for children to build upon throughout the rest of their K-12 journey, according to a statement from United Way of Porter County. Programs, which encourage family engagement and strengthen the connective experience between pre-K and K-12 set the stage for continued social and emotional growth and academic attainment in elementary education and beyond.
"A child's first days and weeks in a kindergarten classroom can set the stage for school success in the following years," said Maureen Weber, president and CEO of Indianapolis-based Early Learning Indiana. "Whether they help children feel comfortable in new school settings, build links from pre-K to elementary teachers or give families support during the transition, each of the promising practices shared by winners of the Strong Start for Kindergarten Prize really tackle this important moment."
Early Learning Indiana received 55 entries from school districts, early learning providers and non-profit community organizations representing 24 Indiana counties. Submissions for the Strong Start for Kindergarten prize were evaluated on their correlation to national research on early learning, ability to demonstrate measurable outcomes, and potential for replication in other Indiana communities.

Latest posts by Larry Avila
(see all)