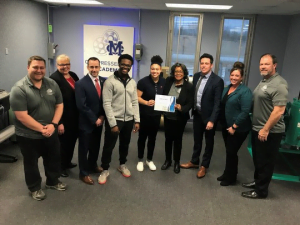 Students at Michigan City High School seeking a career in advanced manufacturing can graduate as a Certified Production Technician with industry credentials and work experience now that one of the school's specialty job-training initiatives is certified as a State Earn and Learn (SEAL) program.
The Indiana Department of Workforce Development said the school has partnered with several local compressed air companies to launch the Compressed Air Academy, where high school students get industry-focused instruction, hands-on experience with equipment, on-the-job training and opportunities to continue their education or enter the workforce after graduation.
The effort is part of a state initiative to skill-up Indiana's workforce by developing work-based learning programs by encouraging collaboration between educators and various industries. The state is offering SEAL certificates to employers and high schools through its Office of Work-Based Learning and Apprenticeship.
"We have multiple schools and companies currently utilizing SEALS to advance Indiana's workforce," said Darrel Zeck, executive director of DWD's Office of Work-Based Learning and Apprenticeship. "Michigan City High School is a big addition to the SEAL certification initiative and its mission to help provide Indiana employers with a skilled workforce."
SEAL programs range from eight weeks to two years and include industry certifications for any business sector. The program is designed to meet skills sought by employers and geared toward adults and youths.
The Michigan City High School Compressed Air Academy is a partnership between the Economic Development Corp. of Michigan City, Ind. and compressed air companies Sullair, Boss Industries, Dekker Vacuum Technologies, Sullivan-Palatek, Compress Air, Mikropor, Cook Compression, Freezing Systems and Services, LEFCO, Midstates Refrigeration and Supply, and Vanair.
The companies provide equipment as well as mentors for students, host field trips, and offer paid internships, said Barbara Eason-Watkins, superintendent of Michigan City Area Schools.
She said getting the academy state certified gives the program additional credibility.
"SEAL certification shows that our program has been vetted and approved at the state level," Eason-Watkins said. "This demonstrates to industry that we are offering a high-quality, results-oriented pathway for our students."
MCHS piloted the program during the 2018-19 school year, with seven students enrolled. Now in its first full year, the academy has grown to 45 students.
Dual credit in advanced manufacturing is offered to students of the academy through Ivy Tech Community College. Students in the program can earn up to 21 credits over four years in addition to six industry-recognized certifications.