Alexis Stanley's career took an unexpected turn after an incident with a hair stylist.
According to Stanley of Merrillville, her hair was severely burned by a stylist who used tools that were too hot. She immediately looked for products to repair the damage but to no avail.
That's when Stanley, a registered nurse, decided to create her own hair-care product at home. After some trial and error, she discovered a formula that worked. The discovery eventually led Stanley to launch her own business and hair-care product line UniQurl in 2018.
UniQurl has an online following, but Stanley now has an opportunity to expand distribution nationally. She and three other entrepreneurs from around the country are among the 2020 Cultivate Cohort, a designation that already has yielded some benefits. Her products are sold on sallybeauty.com, and she received a $15,000 grant and training to develop her business skills.
"I have worked very hard to stand out in the market, and winning this designation gives me confirmation that I am indeed offering new and innovative products to meet unique demands of textured hair care," Stanley said. "I am grateful to Sally Beauty (Supply) for seeing that."
The former nurse learned about the Cultivate program through 22bwb.org, a website dedicated to highlighting the achievements of black women in the beauty industry.
Stanley continued to produce her products herself until the volume became too much to manage. She said in late 2019 and early 2020, she began working with a "trusted manufacturer in Illinois" to help meet growing demand for her products.
Cultivate is an accelerator program, presented by Sally Beauty Supply and Cosmo Prof, to help women grow their beauty-product businesses.
"We are amazed by the ingenuity found among female entrepreneurs who are consistently finding creative ways to meet consumer demand during the ongoing pandemic," said Pam Kohn, senior vice president and chief merchandising officer at Sally Beauty Holdings. "We're proud to be part of each of these brands' incredible journeys in bringing the latest DIY trends to market, particularly at a time when salons and consumers are seeking new solutions."
The other finalists are:
True + Pure Texture, owned by natural hair expert, stylist and salon operator Pekela Riley of Jacksonville, Florida;
Peculiar Roots, founded by Tara Darnley of Greensboro, North Carolina;
Pattie Yankee Products, founded by New York-based nail artist Pattie Yankee.
Stanley, who worked as a nurse for five years in Crown Point and Gary, and the other finalists attended a four-week virtual Cultivate Bootcamp. The participants attended sessions covering merchandising, social media, marketing, ecommerce, store operations and entrepreneurship.
Each segment of the boot camp was selected to ensure each business is set up for success and longevity in the beauty industry, according to Sally Beauty Supply.
Stanley will put her training to the test Dec. 3. She and the other finalists will make presentations to senior-level Sally Beauty and Cosmo Prof executives at the Perfect Pitch Capstone event. They will have a chance to receive in-store distribution of their products in select locations.
Store distribution could prove game changing for Stanley and the other finalists. In 2018, the program transformed the Curlanista and PuffCuff brands into household names, boosting those products' sales by 3,771% and 88% the past year respectively, according to Sally Beauty Supply representatives.
Stanley recognizes what is at stake and is up for the challenge.
"If I am selected, I will continue to work with Sally Beauty to have our products available at select Sally Beauty locations within the first 18 months," she said. "Together, we will continue to grow our customer base and increase brand awareness to a broader audience."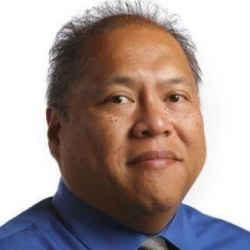 Latest posts by Larry Avila
(see all)