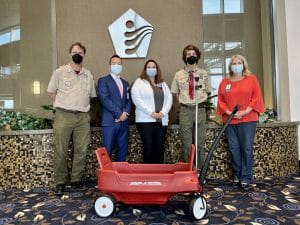 There's no shortage of people and businesses willing to lend a hand to assorted causes and to those in need across the Region and North Central Indiana. Here are some recent donations made to several organizations and those in need:
Adam Lung, a Boy Scout from St. John, recently presented Community Hospital with a customized red wagon. The donation, complete with an IV pole and safety belts to help transport pediatric patients, was his Eagle Project. Lung fundraised and then designed the unique specifications for 15 wagons, which rolled into hospitals serving Northwest Indiana and Chicagoland pediatric patients.
For the past decade, 10 LaPorte County businesses and non-profits have partnered to provide local, 4-H-raised protein to more than 30 food pantries and soup kitchens through Operation Feed LaPorte County. The partnership in September gave an additional steer, raised by the Banwart family donated by Parkman Cattle Co. and LaPorte County Farm Bureau and processed by Sims Meat Processing, to 10 food pantries and soup kitchens. The steer produced about 650 pounds of meat. The donors included, LaPorte County Farm Bureau, LaPorte County Farm Bureau Insurance, the LaPorte County Agricultural Association, the LaPorte County Sheep Breeders Association, 1st Source Bank, CLH CPAs and Consultants, Shireman Vet Service, Sims Meat Processing, Parkman Cattle Co. and The Old Sheep Farm.
The 2022 'Chip In' Golf Outing to benefit the Salvation Army of Northwest Indiana raised $58,000. The outing drew 113 golfers and additional attendees to White Hawk Country Club in Crown Point.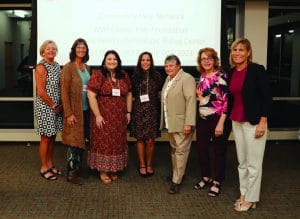 Three $2,000 grants were awarded at the annual Women's Giving Circle Collective Grantmaking Event on Sept. 13. Grants were awarded to the Community Help Network, Northwest Indiana Cancer Kids Foundation, and Open Hearts Therapeutic Riding Center.
Valparaiso University hosted a benefit choral concert for Ukraine on Oct. 6. The concert featured Cappella Romana. Audience donations were accepted to benefit the nonprofit humanitarian organization, Rebuild Ukraine which has raised more than $370,000 in donations since March.
The Anthem Blue Cross and Blue Shield Foundation in September awarded a $4.4 million Connecting Older Hoosiers with Healthful Foods grant to the Indiana Association of Area Agencies on Aging Education Institute Inc. and CICOA Aging & In-Home Solutions. CICOA is the largest of the Indiana's 15 area agencies on aging. The organizations provide services to help low-income seniors live as healthy and independently as possible.
The Teachers Credit Union Foundation awarded Opportunity Enterprises $5,000 to support the service organization's Camp Lakeside, an inclusive summer day camp for school-aged children of all ability levels.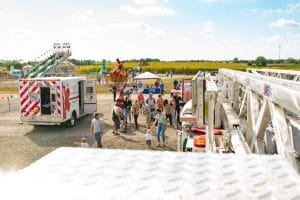 Lakeshore PBS' Be My Neighbor Day event on Sept. 14 drew families to Harvest Tyme in Lowell. Along with materials to help children create emergency preparedness kits, the station also provided materials for families to make cards thanking first responders along with other efforts to help familiarize children with their local helpers. First responders from the Lowell Fire Department, Tri-Creek Ambulance Service, and Lake Dalecarlia Volunteer Fire Department joined Lakeshore PBS. The MAAC Foundation also partnered with Lakeshore to provide educational programming, while volunteers from area PNC Bank branches were available to assist. About 250 emergency preparedness kits were donated to families.
Old National Bank celebrated its first Better Together Volunteer Days on Sept. 28 and Sept. 29. The two-day event provided team members across Old National's seven-state footprint the opportunity to volunteer together in the communities where they live and work. A total of 1,572 volunteers assisted 110 organizations, donating 5,311 hours across seven states. In Michigan and Northern Indiana, 141 Old National volunteers worked with 13 organizations and provided 494 hours. Michigan organizations included: Food Gatherers, Ann Arbor; Goodwill Industries, Adrian; Saline Area Social Services, Saline; Bountiful Harvest, Brighton; Home Repair Services, Grand Rapids; Kids' Food Basket, Grand Rapids; First Day She Fund, Kalamazoo. Indiana organizations included: Associated Churches Food Pantry, Fort Wayne; Fellowship Missions &Heartline Pregnancy, Warsaw; Pe Refuge and Boys and Girls Club, South Bend; and Food Bank of Northwest Indiana, Merrillville. A total of 494 volunteer hours were provided in Michigan and Indiana.
About 700 Teachers Credit Union employees donated time Oct. 10 to about 45 non-profit groups throughout its service area in Indiana and southwest Michigan during TCU's Day of Giving. TCU previously hosted its Day of Giving single-day, corporate-wide days of service in 2018 and 2019. The pandemic prevented the credit union from hosting its day of giving event the past two years.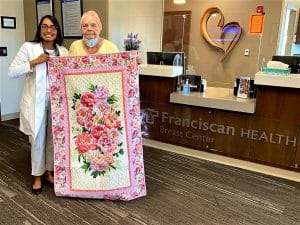 Dr. Sheela Konda, breast imaging radiologist and medical director for the Munster Breast Center at Franciscan Health Munster, was presented with a quilt donated and made by Joellen Mihalov, a cancer patient of Franciscan Health. The quilt she donated will hang in the center's consultation room.
The Downtown Dining Association of South Bend presented a donation of $12,456.29 to support Beacon Children's Hospital. The funds were raised during the 2022 Summer Restaurant Weeks between July 25 and Aug. 7. Since the partnership started eight years ago, a total $210,037.77 has been raised by the Downtown Dining Association.
Other recent donations and philanthropic efforts in Northwest Indiana and the Michiana area reported by Northwest Indiana Business Magazine can be found on the magazine's website.