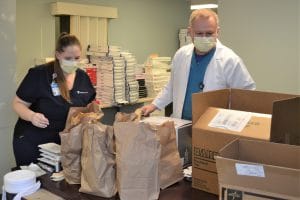 There is no shortage of giving and efforts to help the environment among businesses, organizations and individuals across the Region as well as Michiana.
These are some recent philanthropic announcements made by organizations with either a Northwest Indiana or North Central Indiana presence.
Aiding Ukraine
Franciscan Health hospitals sent nearly 100,000 pounds of medical supplies to the people of Ukraine.
Franciscan worked with the Illinois Division of the Ukrainian Medical Association of North America to ensure the donation would reach its destination. Collection efforts were launched by Dr. Roman Puliaev at Franciscan Health Dyer, who graduated from Crimea Medical University and came to the U.S. in 2002.
His efforts grew system-wide and within 48 hours, three semi-trucks were filled with assorted supplies. UMANA representative and physician at Express Care Clinic in Michigan City, Dr. Mariya Dmytriv-Kapeniak, said Logistics Plus Inc., provided transportation and storage of the supplies at no cost.
The supplies were picked up from Franciscan Health locations in Crown Point, Munster, Michigan City, Lafayette, and Olympia Fields, Illinois. Additional supplies also were picked up in Greenwood. The organization chartered a plane to take the supplies to Warsaw, Poland. From there, the supplies will be loaded onto trucks and will be taken to Ukraine's hospitals, field hospitals and frontlines.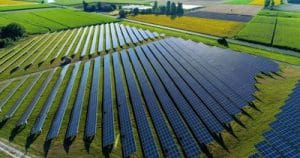 Also included with the medical supplies were prayer cards provided by the Sisters of St. Francis of Perpetual Adoration, Franciscan staff and students at St. Matthew's Cathedral School in South Bend.
Going green
Michigan-based Meijer signed a renewable energy power purchase agreement with Duke Energy Sustainable Solutions, noting the retailer will purchase a portion of the energy generated by the project for the first 15 years of operation.
The solar farm broke ground in Navarro County, Texas on 1,800 acres of land and is expected to be completed by the end of the year. Each year, the Pisgah Ridge Solar project will generate approximately 200,000 megawatt hours of energy for the first year dedicated to Meijer.
This clean energy will account for a reduction of more than 103,000 metric tons of CO2e from the retailer's operations – equal to the amount of greenhouse gas emissions involved with removing more than 20,000 vehicles from the road, or the carbon sequestered from 125,000 acres of U.S. forests. Meijer wants to reduce 50% of its absolute carbon emissions by 2025.  
Fighting cancer
Cancer patients now have access to the newest technology for radiation therapy at Franciscan Health Woodland Cancer Care Center Michigan City. Franciscan recently held a blessing and dedication for the Varian TrueBeam linear accelerator. TrueBeam is a targeted radiotherapy system that provides faster, non-invasive and precise treatment of tumors.
Directing resources
NIPSCO released its 2021 report detailing a successful year of corporate giving, with more than $2.3 million donated in 2021. The report, available at NIPSCO.com/giving back, provides at-a-glance information on NIPSCO's community contributions, including donations and support given in partnership with the NiSource Charitable Foundation.
For the community
Law enforcement providers from LaPorte County recently gathered at Franciscan Health Michigan City for the presentation of 68 lifesaving AEDs (automatic external defibrillators) purchased through funds raised in the third annual Bolt for the Heart 5K/10K Hallowrun.
Bolt for the Heart President Pierre M. Twer said the number of registrations for the run doubled from the past year, but that most of the $106,000 total raised was from sponsorships, including Hometown Hero sponsors of individual AEDs, where the sponsor was recognized with a sticker in the back of the police vehicle. Forty of the AEDs went to the Michigan City Police Department and 28 were distributed to the La Porte Police Department.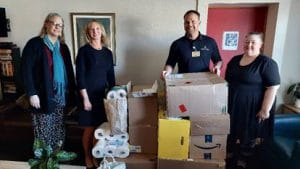 Shelter receives support
Horseshoe Hammond Casino presented more than 2,400 personal care and first aid items to Haven House NWI to support the shelter's mission of providing a safe environment and the essentials for everyday living for women in the Region.
Haven House NWI provides services to a wide range of domestic violence survivors and homeless populations.
Diapers for a good cause
Between March 1 and March 26, Meijer and Kimberly-Clark Corp., maker of Huggies diapers, partnered to donate up to 400,000 diapers to the National Diaper Bank Network.
Meijer has numerous Indiana locations. Franciscan Health Hammond is an official partner of the National Diaper Bank Network. Franciscan's Diaper Bank efforts are made possible via a Geminus Community Partners Grant and major gift from the Franciscan medical executive board. Franciscan representatives said though its partnership with the NDBN, it receives diapers to distribute to the community.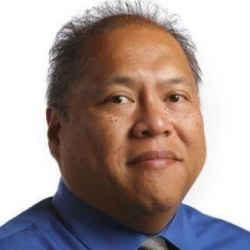 Latest posts by Larry Avila
(see all)