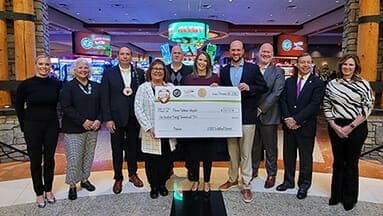 As an homage to this year's Giving Tuesday, here's a roundup of recent people and businesses lending a hand to assorted causes and those in need across the Region and North Central Indiana.
Here are some recent donations:
The Cleveland-Cliffs Foundation donated $25,000 to Opportunity Enterprises for the installation of an accessible kayak launch at the organization's lakeside property at Lake Eliza in Valparaiso.
Franciscan Health Dyer, Munster, Hammond, Crown Point and Michigan City collected a total of 17,296 diapers throughout Diaper Insecurity Month this October during the sixth annual Diaper Drive. This was the first year the Diaper Drive expanded to include other hospitals across the Franciscan Alliance system. In total, the drive collected 30,758 diapers, enough for almost 350 families.
The People's Turkey Drive collected enough food for more than 800 families this Thanksgiving, including 640 side dishes from Franciscan Health, $5,000 from its Medical Executive Committee and $400 from other staff members.
Indiana's poultry producers were recognized Nov. 22 for donating almost 100 tons of poultry products to those in need by the state and the Indiana State Poultry Association. Donations included eggs, chicken, duck and turkey.
The Friends of the St. Clare Center on Nov. 22 donated 50 $120 Strack & Van Til gift cards and two $150 gift cards to the families served by the Franciscan Physician Network St. Clare Health Center in Crown Point.
Sojourner Truth House, in Gary, received a $1.25 million award from the Bezos Day One Fund. The ministry helps the homeless and at-risk women and children with a food pantry, health screenings, transitional housing, among other services.
The Pokagon Band Of Potawatomi Indians and its Four Winds Casinos donated proceeds from the 2022 Four Winds Invitational in August to Beacon Children's Hospital in South Bend on Nov. 30. A check for $120,000 was presented to the hospital at Four Winds South Bend. The money will be used for a Quad Cab NICU transport unit to move premature infants.
Ivy Tech Foundation's Women in Philanthropy Circle of Ivy awarded $263,649 to 84 projects at its seventh annual Circle of Ivy Gathering early in November. The initiative raises funds to diminish barriers to higher education for Ivy Tech Community College students. Region projects that will be funded include:
Lake County, Valparaiso, Michigan City campuses: Road to Graduation!
South Bend/Elkhart campus: Style Ivy, Dress for Success Initiative; Fine Dining Service Evaluation for Hospitability's Customer Service Class; Ivy Academy & ASAP Activity Supplies; Respiratory Therapy Student Lab Bags; Employee Engagement and Recognition Committee Events Fund; The Ivy Quill Publication; Career Awareness Program at the Charles Black Center.
NIPSCO and the NiSource Charitable Foundation donated $50,000 to Meals on Wheels of Northwest Indiana.
Students in the Andrean High School Cardinal Flahiff Chapter of the National Honor Society raised more than $1,400 for the Franciscan Health Breast Care Center Crown Point this fall through the organization's annual sweatshirt sales. Students sold more than 235 sweatshirts with a cross, heart and breast cancer ribbon on the back.