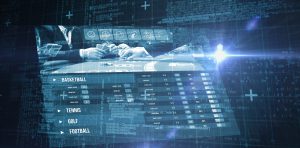 The launch of DraftKings and FanDuel's online sportsbooks in Indiana as well as betting by Chicago area residents nearly tripled the state's online and retail handle in October, according to PlayIndiana.com.
"Indiana is quickly becoming a star among legal sports betting markets in the U.S.," Dustin Gouker, lead analyst for PlayIndiana.com. "Indiana is so far ahead of its neighbors in Illinois, Ohio, Kentucky, and Michigan, that the Hoosier State is well on its way to establishing itself as the gambling capital of the Midwest."
Indiana's retail and online sportsbooks collected $91.7 million in bets in October, up 161% from $35.2 million in retail bets in September, PlayIndiana.com reported. The handle, 45% of which came from football bets, yielded $11.5 million in adjusted gross revenue for the sportsbooks, up 34% from $8.6 million September.
October's betting generated $1.1 million in tax revenue for the state.
PlayIndiana.com said BetRivers Sportsbook, under the French Lick Resort license, was joined by heavyweight DraftKings, under the Ameristar Casino license, launching in early October. FanDuel, the largest online sports betting brand in the U.S., which is operating under the Blue Chip Casino license, launched later in the month.
The three online sportsbooks combined to take in $48.01 million in bets — 52% of the state's total handle — which netted $4.2 million in gross receipts, PlayIndiana.com said. DraftKings received the most bets, posting a $39.4 million handle, followed by BetRivers ($6.3 million), and FanDuel ($2.4 million).
Much of that is new money, PlayIndiana.com said. DraftKings reported last month that 58% of its Hoosier State registrants were new customers.
"Online sports betting is a key accelerator in the growth of any legal sports betting jurisdiction that offers it," Gouker said. "But Indiana's potential online market is particularly substantial. Indiana does not require out-of-state bettors to register in person at a retail sportsbook, so out-of-state residents simply need to cross the state line to place a bet."
Chicago-area residents are coming to Indiana to bet at the state's retail sportsbooks.
Horseshoe Casino in Hammond generated an Indiana-best handle of $10.7 million, which was up from $8.98 million in September. That yielded $1.7 million in gross receipts, which was up from $2.1 million. Ameristar Casino in East Chicago took in $6.8 million, up from $5.4 million in September.