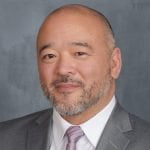 A successful track record of collaboration between public policymakers, educators as well as community and economic development leaders were among the reasons New York college administrator Ken Iwama was tapped to be the next chancellor of Indiana University Northwest.
"Ken Iwama is a skilled, experienced and accomplished administrator with an extensive and diverse portfolio that will position him well to further the growth and vibrancy of the Indiana University Northwest campus," IU President Michael McRobbie said in a statement. "He has demonstrated an especially impressive ability to work collaboratively and successfully with public policymakers, leading educators, and community and economic development organizations."
Iwama's appointment is effective Aug. 1 and subject to approval by the IU Board of Trustees, which is expected during its April board meeting that will be conducted online because of the pandemic restrictions.
"I am so honored by the opportunity to serve as the next chancellor of Indiana University Northwest," Iwama said. "After meeting with the students, faculty, staff, alumni and members of the community during the search process, it became clear to me that IU Northwest is a special place."
Iwama was among four finalists for the IUN chancellor role. Other candidates who were considered included, Vicki Román-Lagunas, executive vice chancellor for academic affairs and professor of Spanish at IUN; Walter Jacobs, dean of the college of social sciences and professor in the department of sociology and interdisciplinary social sciences at San José State University; and Michael Laney, provost, vice president for academic affairs and chief academic officer, and professor of mass communications at Savannah State University.
Iwama is the founding vice president for economic development, continuing studies and government relations at the City University of New York, College of Staten Island. He has led the college's strategic priority in re-engaging with the community of Staten Island, one of the five boroughs of New York City.
He previously served as chief of staff and deputy for two College of Staten Island presidents, and as the college's director of diversity and compliance.
He will succeed William Lowe, who is stepping down as IU Northwest chancellor after 10 years in the post.
Iwama has overseen educational programming for 4,000 pre-college, professional certificate and matriculated students, as well as support for faculty research and innovation, government relations, corporate and foundation engagement, specialized student career services, student residential life, workforce development, auxiliary services and community-based centers and programming.
Iwama has a bachelor's degree in English from the University of New Hampshire, a master's degree in labor and employment relations from the Rutgers University School of Management and Labor Relations, and a law degree from Seton Hall Law School.