The cyber security knowledge of two Ivy Tech Community College students stood out at a recent national cybersecurity competition.
Raymond Cales and Eileen Peden, both students at Ivy Tech's Valparaiso campus, finished second in the 2020 U.S. Cyber Challenge National Cyber Bowl, hosted by the Center for Internet Security and one of many events held in October for National Cybersecurity Awareness Month.
"Through Professor Rami Salahieh's undivided attention and dedication to his students, our cybersecurity program in Valparaiso has become one of the best in the country," said Aco Sikoski, chancellor of Ivy Tech Valparaiso. "We are very grateful for his efforts that so clearly impact his students, who work hard throughout the year to participate in competitions like these."
The Ivy Tech students were recognized by Karen Evans, chief information officer for the Department of Homeland Security during the AFFIRM/USCC 7th Annual Cybersecurity Summit Oct. 9.
Cales and Peden competed under the team name "Ctrl+alt+31337," which is code for Control Alt Elite. Together they competed for 30 consecutive hours in capture the flag missions within various categories including network analysis, cryptography, and reverse engineering. Two other Ivy Tech students also competed on a separate team.
"It felt great to be considered the best of the best," Peden said. "The skills that you gained along the way definitely help you in future competitions and it improves your skill set."
Cales and Peden were also recognized at a virtual Ivy Tech gathering on Oct. 16 where they were presented with certificates of achievement by Sikoski and Salahieh.
"I'd just like to say thank you," Cales said. "This is an incredible honor, and I'm thrilled to be able to bring something like this back to Ivy Tech."
The students have been competing to participate in this Cyber Bowl event for more than a year.
Peden said in fall 2019 and spring 2020, she and Cales took part in the USCC challenge, where at least 10,000 others from around the country competed to be in the Top 100. The top 100 were invited to attend the cyber boot camp to train for the Cyber Bowl and participate in a job fair.
Cales hopes to work in the aerospace industry.
"NASA is kind of the big goal for me," he said.
Peden, who is the chair of Women in Cybersecurity Valpo Chapter at Ivy Tech, plans to graduate next summer with degrees in cybersecurity and networking.
"My hope is to pursue a career dealing with cyber warfare, cyberterrorism or to help prevent kids from disappearing due to child trafficking," Peden said. "Women seem to be intimidated by a predominantly male career field (but) my advice to those women with an interest is to pursue it."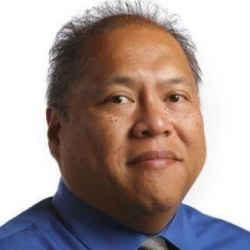 Latest posts by Larry Avila
(see all)