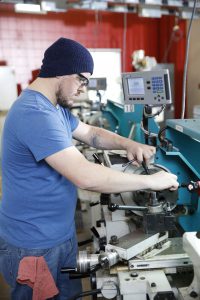 Ivy Tech Community College is working to boost La Porte County workforce skills.
Ivy Tech is partnering with A.K. Smith Career Center to offer technology courses in the areas of electrical, mechanical, welding, machine tool and culinary.
"These programs will include evening courses that will allow for flexible scheduling, especially for those who are currently employed," said Aco Sikoskim, chancellor of Ivy Tech's Valparaiso campus. "We are grateful for this partnership between Ivy Tech and A.K. Smith, as it will offer an additional path for high school students and adults to earn college credentials."
The courses are a continuation of Ivy Tech's current partnership with A.K. Smith.
"We are pleased to extend our partnership with Ivy Tech at the A.K. Smith facility," said Barbara Eason-Watkins, Michigan City Area Schools superintendent. "Together, we remain focused on building the skills of high school students and adults in our community in response to workforce needs."
Through these programs, students who completed the Compressed Air Academy at La Porte High School or Michigan City High School can continue their education close to home.
"As it stands now, those who wanted to continue on after completing the Compressed Air Academy would need to travel to Valparaiso to do so," Sikoski said. "This partnership with A.K. Smith will make completing a college credential significantly more attainable for these students."
A.K. Smith is one of Ivy Tech's three locations in La Porte County, which include the Michigan City site on Franklin Street and the La Porte site at American Licorice.