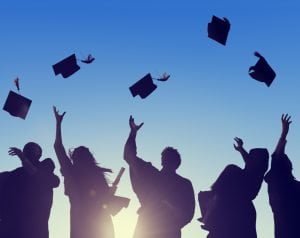 The percentage of students graduating from Indiana public colleges is increasing, and more students are graduating on time.
This is according to the Indiana Commission for Higher Education's latest College Completion Report.
"Most of the new jobs being created now, and in the future require a credential beyond a high school diploma," said Teresa Lubbers, Indiana Higher Education Commissioner Teresa Lubbers. "The data in this report serve as an important gauge for how Indiana's colleges and universities are preparing students, and how vital the support of the Indiana General Assembly is to the state's continued success in higher education."
College completion is measured as the percentage of learners who successfully earn a degree or credential. The report measures the proportion of learners who complete their degree or certificate by campus, including one-page snapshots of each public Indiana campus.
More than 40 percent of all Indiana public college students graduate on-time, or within four years for a bachelor's degree and two years for an associate degree, according to the report.
On-time graduation increased by almost 13 percentage points between 2013 and 2018 and by more than two percentage points in a one-year period (2017 to 2018).
Extended-time graduation – within six years for any degree type – also is rising. Nearly two-thirds of Hoosiers or 61.8 percent or complete college within the extended timeframe, the state said.
College completion rates are improving across all Indiana campus types.
About 47.3 percent of all students who attend a public four-year campus in Indiana graduate on-time, an improvement of over 11 percentage points in the five-year period, the state said.
Campuses with the greatest improvement in on-time graduation are Indiana University East, University of Southern Indiana, Indiana University-Purdue University-Indianapolis (IUPUI), Indiana University Kokomo and Ball State University.
Indiana University Bloomington, Purdue University West Lafayette and Ball State University campuses have the overall highest on-time and extended-time completion rates.
On-time graduation rates at two-year campuses are also improving, with over 14 percent of students at Ivy Tech Community College and Vincennes University graduating on-time, a 9-percentage point gain in the five-year period, the state said.
Overall, 35.3 percent of students are graduating during the extended timeline at two-year campuses across the state, a 3-percentage point increase over the previous year.

Larry is an award-winning journalist with more than 25 years of experience working with daily newspapers and business-to-business publications around the Midwest. Avila is a Michigan native and a graduate of Central Michigan University.

Latest posts by Larry Avila (see all)