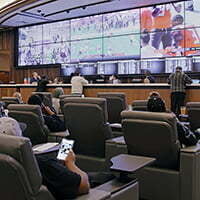 The return of professional sports yielded big business for Indiana's sportsbooks in August.
PlayIndiana.com reported Indiana's online and retail sportsbook generated $169 million in wagers for August, which made the state the fourth-largest legal market in the U.S. for the month as Indiana completed its first year of legalized sports betting.
"A rebound was inevitable with such an active sports schedule in August but seeing such an active month is awfully welcome news for Indiana's sports betting industry," said Dustin Gouker, lead analyst for PlayIndiana.com. "August's results are a clear signal that we are turning the page on its darkest days (and) the state's status among legal jurisdictions is relatively safe for now."
He said that could change now that Indiana faces more competition from neighboring states Illinois and Michigan, which recently legalized sports betting.
Indiana's August handle was the state's third largest monthly total since the industry launched on Sept. 1, 2019, and the largest since sportsbooks generated a record $187.2 million in February, PlayIndiana.com reported.
August's bets produced $9.8 million in adjusted gross revenue, up 47.7% from July, and yielded $934,314 in tax revenue for the state.
Through the industry's first 12 months, Indiana produced:
$1.2 billion in wagers
$94.8 million in adjusted gross revenue
$9 million in state taxes
In the past 12 months, Indiana trailed only Nevada, New Jersey, and Pennsylvania in total wagers, PlayIndiana.com reported.
"This has been an eventful first year for Indiana sportsbooks, and increasing competition from neighboring states and rapidly growing jurisdictions such as Colorado will continue to put pressure on Indiana's status," said Jessica Welman, analyst for PlayIndiana.com. "An Illinois expansion of online betting could really affect Indiana."
She said Indiana's sportsbooks need to be creative in attracting new bettors within the state to help offset the loss of the Chicago market now that sports betting is legal in Illinois.
"Indiana is still in position to capitalize on large markets in Ohio and Kentucky," Welman said.