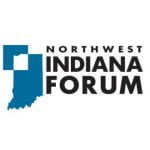 An event to update community and Region leaders on an initiative to develop a long-term strategy to strengthen Northwest Indiana's economy is back on.
The Northwest Indiana Forum has rescheduled the Ignite the Region Update Reception for Sept. 17 from 3 p.m. to 5:30 p.m. at Sand Creek County Club in Chesterton. A livestream feed also will be offered, which will start at 3:45 p.m.
The event originally was scheduled for Aug. 20 but was postponed because of recent restrictions imposed on large public gatherings because of COVID-19.
Masks will be required and hand sanitizer will be readily available. An online streaming option also will be available with a link being sent to registered attendees prior to the event.
The Northwest Indiana Forum and community partners have been working on the initiative the past two years.
The implementation teams are focusing on five pillars including business development and marketing, entrepreneurship and innovation, talent, placemaking and infrastructure. Each team will share a progress report on their specific areas to attract investment and talent to the Region.
Registration information is available through the Northwest Indiana Forum website or by calling (219) 763-6303.
Editor's Note: This story has been updated from a previous post. The event is Sept. 17. 

Latest posts by Larry Avila
(see all)