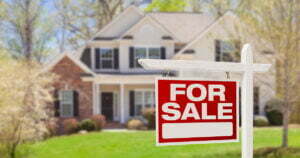 While the number of homes for sale in Northwest Indiana is up, homebuyers don't seem to be that interested, according to Valparaiso-based Quadwalls.
Home sales in the Region fell by 29% in January, according to a report by Chuck Vander Stelt, a real estate agent based in Valparaiso.
"Home prices are holding up despite a slower market," he said. "There are just fewer participants on both sides right now."
Only 549 homes were sold in January, as reported in the Greater Northwest Indiana Association of Realtors MLS. The average price of homes rose 4% from a year ago in January to $263,316. But Vander Stelt said home prices have been stabilizing since August of 2022.
The number of homes available has increased from a year ago, but inventory in February has tightened. Homebuyers are "very price sensitive now," said Vander Stelt, who also is the operating manager of Quadwalls.
He suggested that buying a home now is optimal before the market heats up in summer, but selling a home might result in a lower selling price. Vander Stelt became a real estate agent after having a difficult time buying his first home.
"We may see inventory problems come back as the spring-summer market arrives," he said in his blog.
The close of sales in December 2022 already had shown a cooling housing market.
Quadwalls.com is a real estate website founded in Valparaiso. The GNIAR was created in January 1995 through a merger of the Northwest Indiana, Duneland, South Lake County and Jasper-Newton Associations of Realtors, which were originally chartered in 1914.