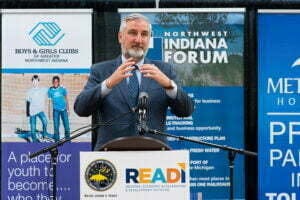 Gov. Eric Holcomb says a $30 million investment in the Tolleston Opportunity Campus in Gary is a "historic" investment in the community.
The Tolleston Opportunity Campus is one of 34 READI projects. The Boys & Girls Club of Greater Northwest Indiana, Methodist Hospitals and the Crossroads YMCA will partner to provide child care, fitness classes, community programs, health care and workforce training in the neighborhood.
The campus will be built at the Gary branch of the Boys & Girls Club in the former Tolleston Middle School. It includes 50,000 square feet of new space and upgrades to the club.
"This historic initiative in Gary will provide critical services for Hoosiers, increase quality of place and position the city and surrounding region for continued success," Holcomb said in a press release.
Holcomb celebrated the investment March 14 in Gary with officials and community leaders, including Gary Mayor Jerome Prince.
"It's proof Gary, our friends and neighbors can reimagine what's possible when we all work together," Prince said. "We welcome all our partners to Gary, and we look forward with you — to accomplishing great things for Northwest Indiana."
The Dean and Barbara White Family Foundation, City of Gary, and READI grant funds, allocated by the Indiana Economic Development Corp. and managed by the Northwest Indiana Forum Foundation, each committed $10 million to the $30 million project.
"As these catalytic projects evolve, many, like the Tolleston Opportunity Campus, are adding additional partnerships, deepening the impact they will have on our region," said Heather Ennis, president and CEO of the Northwest Indiana Forum, in a press release.
A goal for the Tolleston Opportunity Campus is to make services more accessible in the community.
"We look forward to creating a safe place for all to learn, grow, and thrive while serving more kids and families in Lake County," said Jay Buckmaster, CEO of Crossroads YMCA.